What Makes Heirloom Plants So Great?: Old-fashioned Treasures to Grow, Eat, and Admire (W. L. Moody Jr. Natural History Series #41) (Paperback)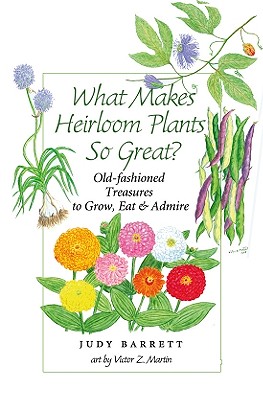 Other Books in Series
This is book number 41 in the W. L. Moody Jr. Natural History Series series.
Description
---
 "The wonderful diversity offered by heirloom plants can help you create a deeply satisfying garden that looks good, preserves historic plants, and provides you with color, shade, food, flowers, herbs, and an all-around happy place."
 Garden writer Judy Barrett opens her second book with a conversation about the characteristics of heirloom plants and why their toughness, ease of propagation, and wide variety make them ideal to grow in any garden. Add their occasional oddities, complex flavors and scents, histories, and family stories, and these plants can become as valuable and treasured as a cut-glass bowl or handmade quilt.
 Having collected, grown, and propagated many heirloom plants, Barrett has favorites in every category--from food to flowers, trees, and herbs--and stories to tell about all of them: the headstrong pumpkin; the all-potato diet; the yam van; the porch petunia. Covering  thirty-seven plants or groups of plants (such as annuals or perennials), Barrett provides practical information about growing them, eating them, enjoying them, and propagating them. Seeds are a particularly important topic in heirloom gardening, and Barrett teaches us why and how to save, store, and share all kinds of seeds, from vegetables, flowers, and trees. She also provides a primer on self- and cross-pollination.
 Nutritional information and well-tested recipes appear throughout, presented in Barrett's signature informal style. The manuscript is written for anyone who has clipped an old rose or bit into an heirloom tomato and wanted to know more. 
About the Author
---
JUDY BARRETT is author of What Can I Do with My Herbs? (Texas A&M University Press, 2009), now in its second printing, and long-time editor and publisher of the organic gardening magazine Homegrown. A frequent speaker at gardening events and conferences, she lives in Taylor, Texas.
Praise For…
---
"Judy Barrett has gardening karma and charisma in spades. . . she conveys, almost subliminally, what it is to be a gardener---a gardener informed by family, memory, and a community of gardeners . . . . Smiles come often while reading this book."--Cheryl Hazeltine, author of
Cheryl Hazeltine's Central Texas Gardener 
(Texas A&M University Press, 2010)
". . . a delight to read. Judy shares her experiences and seeds with the reader, as if you were paying a visit to her garden."—Barbara A. Storz, AgriLife Extension agent for horticulture in Hidalgo County, Texas
"Judy Barrett has gardening karma and charisma in spades. Not only does she tell in an engaging and clear style how to garden, she conveys, almost subliminally, what it is to be a gardener--a gardener informed by family, memory, and a community of gardeners. Her prose excudes confidence and fearlessness . . . it is relaxed, sensible, and winsome. Technical material is presented clearly, smoothly, and in a non-condescending style; the recipes are tempting and invitingly doable . . . contains abundant useful and entertaining information . . . The historical and other anecdotes are interesting, witty, and quite charming. She can tell a story on herself and show how gardeners, not just plants, can change and evolve. Smiles come often while reading this book. . . ."--Cheryle Hazeltine, author of Cheryl Hazeltine's Central Texas Gardener
— Cheryl Hazeltine
" . . . a delight to read. Judy shares her experiences and seeds with the reader, as if you were paying a visit to her garden. She paints a delightful picture of vegetables and fruits she has grown and prepared . . . You get the feeling you are just following her along on a wonderful tour . . . Her book is a testimony to those wonderful 'pass-along' plants we have enjoyed and introduces us to many more possibilities."—Barbara A. Storz, AgriLife Extension agent for horticulture in Hidalgo County, Texas
— Barbara A. Storz, AgriLife Extension agent for horticulture in Hidalgo County
 "Judy delivers an appetizing spread of culinary delicacies and plant lore that will have your mouth watering and thumbs turning green." -- G. Michael Shoup, President of Antique Rose Emporium Inc
— G. Michael Shoup