Recipes From and For the Garden: How to Use and Enjoy Your Bountiful Harvest (W. L. Moody Jr. Natural History Series #44) (Paperback)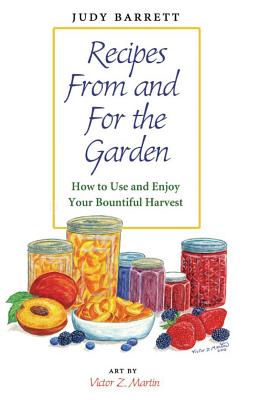 Other Books in Series
This is book number 44 in the W. L. Moody Jr. Natural History Series series.
Description
---
 Veteran gardener Judy Barrett offers readers more than a hundred simple recipes for using, enjoying, and enhancing the bounty of their gardens. These easy recipes—some old family favorites, others created by Barrett, and still others from cooks and gardeners she admires—encourage home gardening for everyone.
In her familiar and relaxed style, Barrett shows readers how to use the plentiful harvests of common vegetables (such as beans, squashes, cucumbers, and peppers), how to experiment with more exotic plants (like ginger and jujubes), and what to prepare for the freezer or pantry once the growing season has ended. From bean and tomato salsa to lemon meringue pie, the ingredients are straightforward and the instructions uncomplicated.
Barrett also shares gardening tips and ideas for using what you have grown in the garden to help take care of your house, yourself, and—coming full circle—your garden itself. With suggestions for everything from making your own personal care products to a variety of ways to create natural pesticides, plant food, and compost, Barrett ends by showing how you can give back a little of what your garden gave to you. Recipes From and For the Garden will delight all who enjoy their plants, whether potted patio tomatoes or a backyard vegetable patch.
About the Author
---
Judy Barrett is the author of What Can I Do with My Herbs? (Texas A&M University Press, 2009) and What Makes Heirloom Vegetables So Great? (Texas A&M University Press, 2010). The former editor and publisher of the organic gardening magazine Homegrown, she blogs at HomegrownTexas.com and is a frequent speaker at gardening events and conferences. She lives in Taylor, Texas, near Austin.
Praise For…
---
" Judy Barrett has the gardener's passion and with it, a vision covers all our needs, from enhancing our bodies and beautifying our homes, from producing soothing teas to robust dinners in which the most loved recipes are transformed and made even better by garden produce. This book will convince one to garden even if it's just a pot of tomatoes —and cook!"--Deborah Madison, Author of Vegetarian Cooking for Everyone and Local Flavors
— Deborah Madison
"Judy Barrett's Recipes from and for the Garden is an eclectic mix of recipes ranging from the kitchen and home to the garden. While she features typical vegetables and fruits, I especially enjoyed the sections highlighting ginger and jujubes--not only do I know how to grow them now--there are mouthwatering recipes to use them in. Judy leads us from the kitchen throughout the rest of the house, with simple ideas and formulas for tonics, remedies, and repellants, body care, and then out to the garden with fertilization teas and natural herbicides. Whether your specialty is cooking, crafting, gardening, or all of the aforementioned, therre is something of interest in this book for every gardener."--Susan Belsinger, culinary herbalist, author, and educator
— Susan Belsinger