The Freedom Artist (Hardcover)

$30.95
Coming Soon - Available for Pre-Order Now
Description
---
"In Okri's dystopian version of our reality, the world is a totalitarian state, ruled by an anonymous but powerful authority known as the Hierarchy. When a woman goes missing after painting a simple question--'Who is the prisoner?'--on a public wall, her lover sets out to find (and hopefully save) her. His journey takes him through a dismal landscape, inhabited by people terrified of--but also resisting--their subjugation."
--BuzzFeed, one of BuzzFeed's Most Anticipated Books of 2020
"Man Booker-winner Okri's modern allegory specifies and beautifully renders the impact on the human spirit when people are deprived of history and truth. Written with a striking simplicity that belies the significance of its message, Okri's tale is especially resonant in our current post-truth environment."
--Booklist, Starred review
"Haunting and inspiring...In this story of political abuse and existential angst, Okri employs a powerful and rare style reminiscent of free verse and evoking a mythical timbre. This is a vibrantly immediate and penetrating novel of ideas."
--Publishers Weekly, Starred review
"Like George Orwell and Margaret Atwood before him, the Booker Prize-winning Okri writes a passionate cri de coeur, a clarion call to activists everywhere to resist apathy and recognize that we are all on this beautiful globe together and that it is ours to lose."
--Library Journal
"Okri's somber, fablelike novel is a call to rally against oppressive institutions and for broader social consciousness. In that regard, it's an inheritor of The Handmaid's Tale, Fahrenheit 451, and Things Fall Apart...Okri's writing is sturdy and graceful, fully inhabiting the authoritative tone of mythmaking."
--Kirkus Reviews
"The Freedom Artist is a fable-like allegory set in a dystopian future in which the 'Hierarchy' is dominant, the citizens trapped and muted, except sometimes when they are heard screaming in their sleep. It is through this world that Karnak must travel to find his lover, who has been arrested for asking the question: 'Who is the prisoner?'"
--Literary Hub, oneof the Most Anticipated Books of 2020
Included in Publishers Weekly's Literary Fiction Adult Announcements for Spring 2020, Notable African-American Titles for Fall 2019-Spring 2020, African-American Interest Adult Titles, Fall 2019-Spring 2020, Science Fiction and Fantasy Preview for 2019-2020, and Science Fiction and Fantasy Preview for 2019-2020 (African Diaspora-inspired SFF)
"Where fiction's master of enchantments stares down a real horror, and without blinking or flinching, produces a work of beauty, grace, and uncommon power."
--Marlon James, author of Black Leopard, Red Wolf
Included in Publishers Weekly's Science Fiction and Fantasy Preview for 2019-2020
Included in Publishers Weekly's Science Fiction and Fantasy Preview for 2019-2020 (African Diaspora-inspired SFF)
In a world uncomfortably like our own, a young woman called Amalantis is arrested for asking a question. Her question is this: Who is the Prisoner?
When Amalantis disappears, her lover Karnak goes looking for her. He searches desperately at first, then with a growing realization that to find Amalantis, he must first understand the meaning of her question.
Karnak's search leads him into a terrifying world of deception, oppression, and fear at the heart of which lies the prison. Then Karnak discovers that he is not the only one looking for the truth.
The Freedom Artist is an impassioned plea for justice and a penetrating examination of how freedom is threatened in a post-truth society. In Ben Okri's most significant novel since the Booker Prize-winning The Famished Road, he delivers a powerful and haunting call to arms.
About the Author
---
Ben Okri was born in Minna, Nigeria. His childhood was divided between Nigeria, where he saw firsthand the consequences of war, and London. He won the Booker Prize in 1991 for The Famished Road. He has published eleven novels, four volumes of short stories, four books of essays, and four collections of poems. His work has been translated into more than twenty-five languages. He also writes plays and screenplays. He is a fellow of the Royal Society of Literature, a vice president of English PEN, and has been awarded the OBE as well as numerous international prizes and honorary doctorates.
EVENTS
SHOP THE DOCK
Great Gift Ideas
Books, vinyls, calendars, journals, fragrances, jewelry, apparel, gifts and more
Dock Tuesday Poetry & Open Mic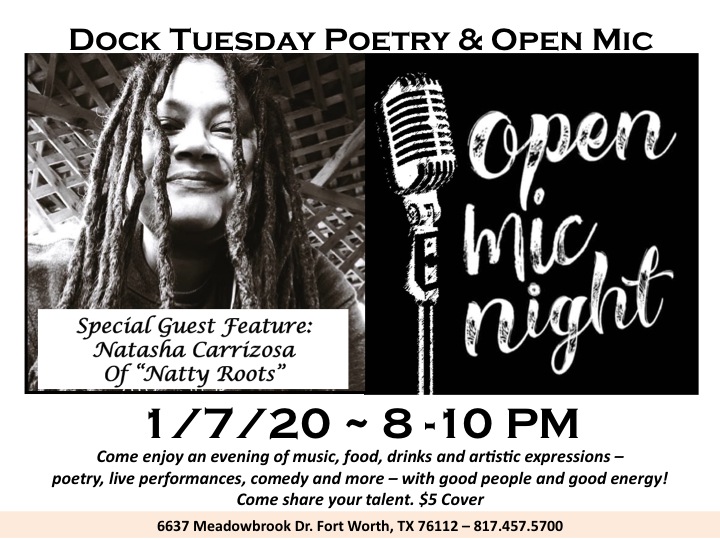 Come enjoy an evening of music, food, drinks and artistic expressions -
poetry, live performances, comedy and more -withgood people and good energy! Come share your talent. $5 Cover
Tue. Jan. 7 S
pecial Guest Feature:
Natasha Carrizosa Of "Natty Roots"
The Darolyn Brock Show
on Dock Radio

Tune in Tonight!
Every Tuesday at 7 PM
NEW YEAR - NEW YOU - NEW BOOKS
BOOK REVIEW & EMPOWERMENT TALKS
Sat. Jan 25th - 3-5 PM - The Dock Bookshop
A sharing and discussion of must-reads for 2020 that are sure to inspire, motivate and promote health and wealth with guest authors and more.
RSVP
Celebrating Life and Legacy of Martin Luther King Jr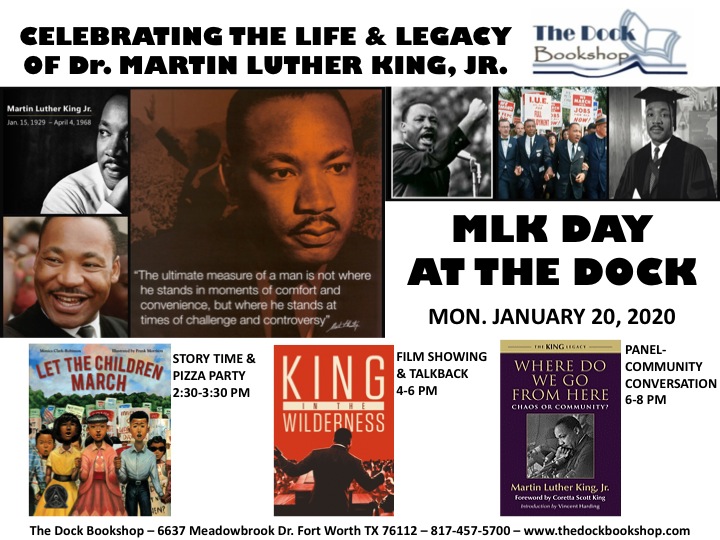 MLK DAY AT THE DOCK
Monday 1-20-2020
STORY TIME
2:30-3:30 PM
BOOK READ:
Let The Children March
by
Monica Clark-Robinson
Illustrated by Frank Morrison
About Book: Told from a child's point of view, this moving picture book focuses on a monumental moment in the civil rights movement: the Children's Crusade of 1963. Thousands of African-American children and teens marched through the streets of Birmingham, Alabama, to end segregation and to inspire change and hope for the future.
FILM SHOWING & TALKBACK
4-6 PM
FILM:
KING IN THE WILDERNESS
Through personal stories of the people who were around him, this film follows Martin Luther King, Jr. during the last years of his life.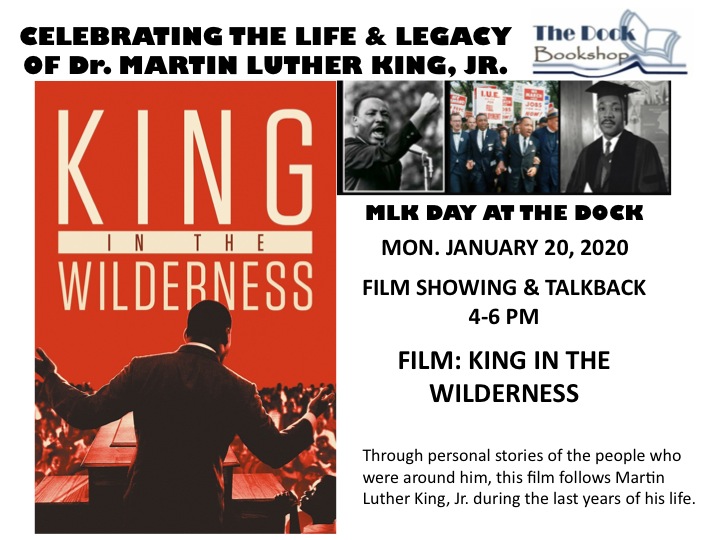 PANEL- COMMUNITY CONVERSATION
Join other concerned citizens in addressing issues facing the African American Community and determining.....Where do we go from here in 2020
MEN'S BOOK CLUB
4th Thursday
7-9 PM
The Dock Bookshop
All men are invited to read, share and build.

Book Discussion:
Jan. 23 - The Sellout
by Paul Beatty
RSVP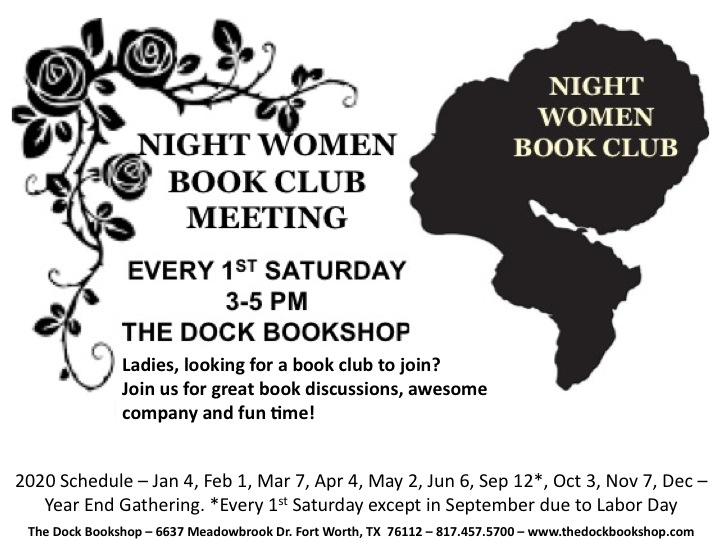 NIGHT WOMEN
BOOK CLUB
1ST SATURDAY
3-5 PM
The Dock Bookshop
Ladies, looking for a book club to join?
Join us for great book discussions, awesome company and fun time!
Book Discussion:
Feb. 4 - Rebel by
Beverly Jenkins
KIDS CLUB
Monthly 2:30-3:30 PM
The Dock Bookshop

The Dock Bookshop Kids Club takes place every month and is sure to edutain both children and parents in an interactive setting. We have a variety of themed
programs that includes books, reading, play and more!
Upcoming Date:
Mon. Jan. 20
Book Read:
Authors Schedule Your 2020 Book Signing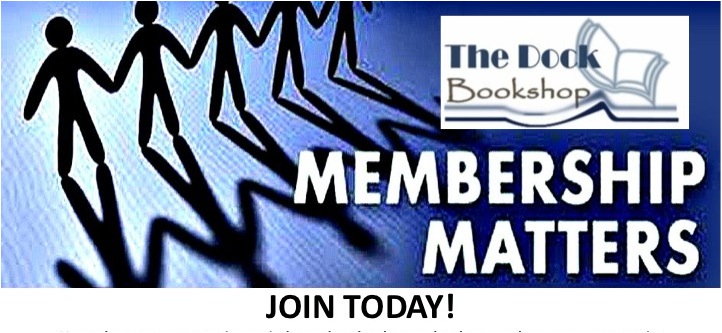 Not only are you supporting an independent bookstore that loves and supports community
but also your supporting...
*Literary and cultural programs including our Kids Club that impacts hundreds of families
*Artists who share their artistic expressions every Tuesday
Plus
*Receive additional discounts and savings on books
*Receive free tickets to Dock selected events
*Usage of meeting space (based on availability)
*Free advertising on Dock Eblast & social media outlets and more