Honeymoon for Three (Paperback)

Description
---
One husband. One wife. And her fiancE?
The bestselling romantic comedy Honeymoon For One continues with HONEYMOON FOR THREE, another heartwarming and page-turning romance by USA TODAY Bestselling Author Chris Keniston.
All Pam Stuart wants is to board an elegant cruise ship and marry her fiancE in paradise surrounded by family and friends. It's a simple wish--and it just got a lot harder. Gil Harris, her ex-husband, shows up with news that sinks her wedding dreams. They're still married. Now it's up to Gil and Pam to find a way to secure a quickie divorce before both of them drown in the turmoil.
With Gil ready to marry his boss' daughter and Pam's fiancE unaware of the glitch, they must act fast. But is ending the marriage just the beginning for Gil and Pam?
PRAISE FOR HONEYMOON FOR THREE :
"Pam and her friends were keeping me laughing throughout the entire story."
"Absolutely loved the mix of characters, the fun they created with some steamy romance thrown in for good measure."
"The plot and character surprises along the way made "Honeymoon for Three" another really great read from one of my favorite authors."
"If you are looking for a great lighthearted funny read here it is. If you haven't checked out the other books by this author do yourself a favor and pick one up, you will not be disappointed."
"Lots of love and laughter in this Honeymoon Series book."
"This is a seriously fantastic book. I loved it all the way through."
"I was captivated from beginning to end "
"Take the plunge, join the cruise and you will discover why "Honeymoon for Three" is an enjoyable, will want to read it again and again, story."
Also from Chris:
Aloha Series (9 books)
Family Secrets Novels (3 books)
Farraday Country (7 books)
To learn more about Chris and her books go to chriskeniston.com/books.html
Show less...
Upcoming Events
---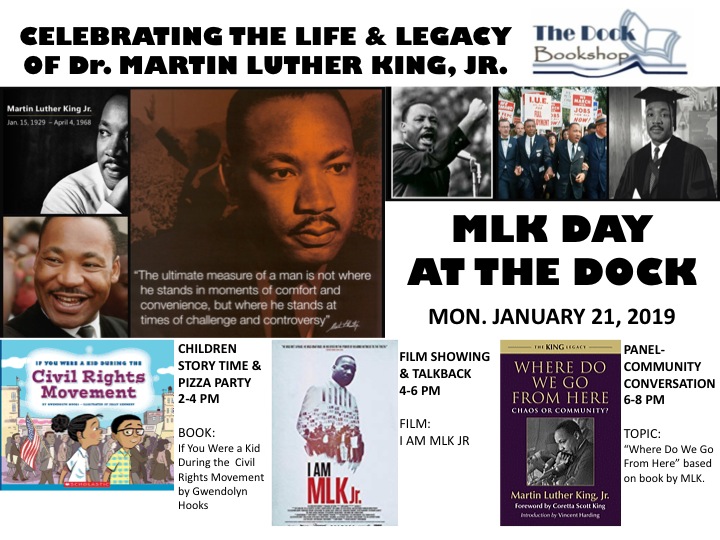 CELEBRATING THE LIFE & LEGACY OF Dr. MARTIN LUTHER KING, JR.
MLK DAY AT THE DOCK
MON. JANUARY 21, 2019
CHILDREN STORY TIME & PIZZA PARTY
2-4 PM
BOOK READ: If You Were a Kid During the Civil Rights Movement
"I Am MLK Jr." tells the story and celebrates the life of Dr. Martin Luther King Jr. from an engaging contemporary perspective structured around seminal events of the Civil Rights Movement.
PANEL- COMMUNITY CONVERSATION
6-8 PM
TOPIC: Where Do We Go From Here
Join other concerned citizens in addressing issues facing the African American Community and determining.....Where do we go from here in 2019
---
U LIT TEEN OPEN MIC
Saturday Jan 19 - 3 PM at The Dock
Teen Open Mic !!
Come support the youth! To RSVP or For more info call 469.528.0224
RSVP
---
Concerned Citizens Local Organizing Committee
Presents NEW YEAR UNITY BUSINESS MIXER
THU. JAN. 17th 7-9 PM @ THE DOCK
Black businesses and professionals are invited to come and share! Bring business cards/flyers
The Community is invited to come, learn and support.Free Event. Presented by the Concerned Citizens Local Organizing Committee.
---
GET THAT BOOK PUBLISHED LUNCH AND LEARN
Saturday January 26 ~ 12 noon - 2 PM @ The Dock
Whether it's a fictional novel, a guide book, or a manuscript - get that book published! Come learn and let us help you accomplished one of your goals for 2019!
---
MEN'S BOOK CLUB
THU. JAN 24 - 7 PM @ THE DOCK
Book Discussion:What it Means When a Man Falls From The Sky
by Lesley Nneka Arimah
RSVP
---
BOOK & AUTHOR SPOTLIGHT
ABOUT BOOK: There wasn't a sweet sixteen for Crystal like most girls her age. It was bitter-sweet as she waddled around alone, pregnant, and confused. Fast-forward twenty years and Crystal is still trying to right a wrong that she shouldn't have had to fix.Determined to emend her past misfortunes, Crystal runs to the church. But instead of making God her savior, she seeks her salvation from Marcus Powers, co-pastor of Freewill Baptist Church. Marcus is the love of her life and the very vehicle that will drive her to becoming a First Lady. A title she has wanted to own for most of her life. What Crystal fails to understand is that it will take more than being married to Marcus to make her a First Lady. If Crystal doesn't learn to un-blur the lines of her faith and flesh, she'll lose way more than just her self-worth.
ABOUT AUTHOR: Gabrielle Beasley is a Screenwriter and Playwright. She received a Bachelor's Degree in Radio, Television and Film Broadcasting from the University of North Texas. She's worked as an Associate Producer and currently is the CEO of the faith-based production company, Potluck Film Productions, in Dallas, TX. Gabrielle also volunteers in the Drama Ministry at the Potter's House church in Dallas, TX as a writer and stage manager. In 2014, she produced the stage play First Lady or Not and is currently turning this stage production into a film.