Honeymoon for Three (Paperback)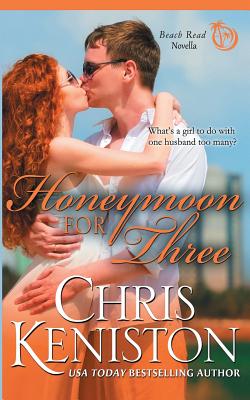 Description
---
One husband. One wife. And her fiancE?
The bestselling romantic comedy Honeymoon For One continues with HONEYMOON FOR THREE, another heartwarming and page-turning romance by USA TODAY Bestselling Author Chris Keniston.
All Pam Stuart wants is to board an elegant cruise ship and marry her fiancE in paradise surrounded by family and friends. It's a simple wish--and it just got a lot harder. Gil Harris, her ex-husband, shows up with news that sinks her wedding dreams. They're still married. Now it's up to Gil and Pam to find a way to secure a quickie divorce before both of them drown in the turmoil.
With Gil ready to marry his boss' daughter and Pam's fiancE unaware of the glitch, they must act fast. But is ending the marriage just the beginning for Gil and Pam?
PRAISE FOR HONEYMOON FOR THREE :
"Pam and her friends were keeping me laughing throughout the entire story."
"Absolutely loved the mix of characters, the fun they created with some steamy romance thrown in for good measure."
"The plot and character surprises along the way made "Honeymoon for Three" another really great read from one of my favorite authors."
"If you are looking for a great lighthearted funny read here it is. If you haven't checked out the other books by this author do yourself a favor and pick one up, you will not be disappointed."
"Lots of love and laughter in this Honeymoon Series book."
"This is a seriously fantastic book. I loved it all the way through."
"I was captivated from beginning to end "
"Take the plunge, join the cruise and you will discover why "Honeymoon for Three" is an enjoyable, will want to read it again and again, story."
Also from Chris:
Aloha Series (9 books)
Family Secrets Novels (3 books)
Farraday Country (7 books)
To learn more about Chris and her books go to chriskeniston.com/books.html
Show less...