Brooks (Paperback)

$10.99
Usually Ships in 1-5 Days
Description
---
Welcome to Book 2 in Farraday Country, a twist on the favorite 7 Brides for 7 Brothers theme set in cattle-ranching west Texas, with all the friends, family and fun that fans have come to expect from USA TODAY Bestselling author Chris Keniston. On the way to his family's ranch, Dr. Brooks Farraday encounters what he thinks is a hit and run. Instead he finds a beautiful stranger in the road petting a stray dog. He wants to be the friend she needs, but falling for her could come at too high price. For Toni Castellano, attending a friend's wedding in West Texas seems the perfect escape from her life in Boston. The last thing she needs is another man in her life. She fell for Prince Charming once with disastrous results. But could Brooks Farraday really be her knight in shining armor? More Books in the Farraday Country Series: Adam - Book 1 Brooks - Book 2 Connor - Book 3 Declan - Book 4 - Ethan - Book 5 - Coming 2017 Finn - Book 6 - Coming 2017 Grace - Book 7 - Coming 2017 For more books by multi-time USA TODAY Bestselling Author Chris Keniston, check out www.chriskeniston.com/books.html.
We're Celebrating 10 Years of Business and Service
Join us in the Celebration!
Make The Dock Bookshop one of your shopping destinations!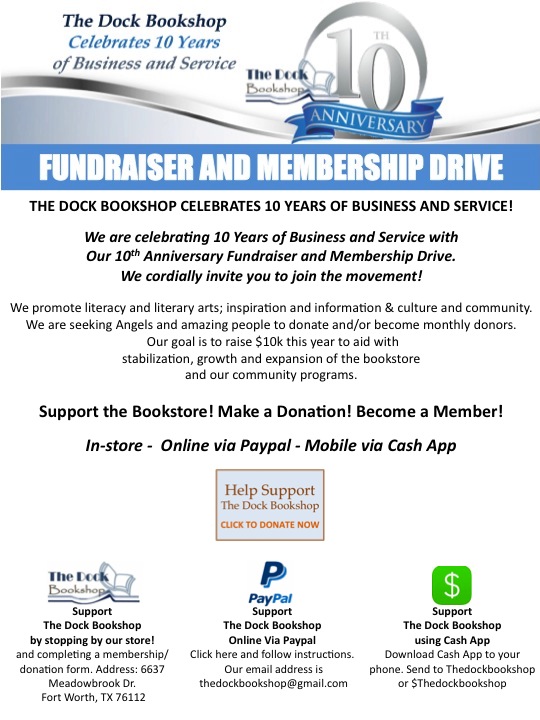 Bi-Monthly Newsletter & Shopping Guide
Black Panther Comic Booklist
Upcoming Guests & Events
---
FEATURED AUTHOR & BOOK
Introducing New Author Kim Gbadebo
and her new book release THE ULTIMATE BETRAYAL
Available at The Dock Bookshop
---
UPCOMING GUESTS AND EVENTS
CELEBRATE Juneteenth & Black Music Month
Tue. June 1 The Dock Bookshop
6:30-8 PM
Free Family Event with Speakers

8-10 PM
Poetry & Open Mic Night
$5 Cover
Building Our Communities Again:
A Real Estate Investment Event!
Sunday, June 24th
3-5pm - The Dock Bookshop
Discussion on gentrification and (re)building our own communities. Plus, there will be a master plan presented by Real Estate Developer Kevin Brown & Jeanette Sneed. Snacks & refreshments will be served. For more information call 469 652 4009
---