Hannah (Paperback)

$9.99
Usually Ships in 1-5 Days
Description
---
Tuckers bluff isn't done playing matchmaker for the Farradays. Welcome to Hannah, book 8 in the heartwarming Farraday Country series set in cattle-ranching west Texas, with all the friends, family and fun that fans have come to expect from USA TODAY Bestselling author Chris Keniston.
For Hannah Farraday, working at her family's new equine center is a dream come true. Each of her cousins has found their happily ever after, but she's not looking for Prince Charming. Especially not one who rides into town and knocks her boots over tea kettle.
Dallas police officer Dale Johnson plans to leave Texas in the dust. What should have been a pit stop in Tuckers Bluff is turned on its head when a chance encounter with a beautiful woman on horse back leaves him playing knight in shining armor. Can fairytales come true when reality and dreams collide?

More Books in the Farraday Country Series:

 Adam - Book 1 

Brooks - Book 2

Connor - Book 3 

Declan - Book 4

Ethan - Book 5 

Finn - Book 6 

Grace - Book 7
Hannah - Book 8
Ian - Book 9
Jamison - Book 10
Keeping Eileen - Book 11
PRAISE FOR FARRADAY COUNTRY:


"Chris Keniston gives us a world you'll never want to leave." Emily March, New York Times Bestselling Author of Eternity Springs series.


 "Loved it. Fast moving and fun." Jodi Thomas, New York Times Bestselling Author on DECLAN.

"Spellbinding " Lori Wilde, New York Times Bestselling Author on ETHAN


 "My kind of read Spend an afternoon with a great romance story, a feisty heroine, and one unforgettable hero." Lindsay McKenna, New York Times Bestselling Author on ADAM


PRODUCT FEATURES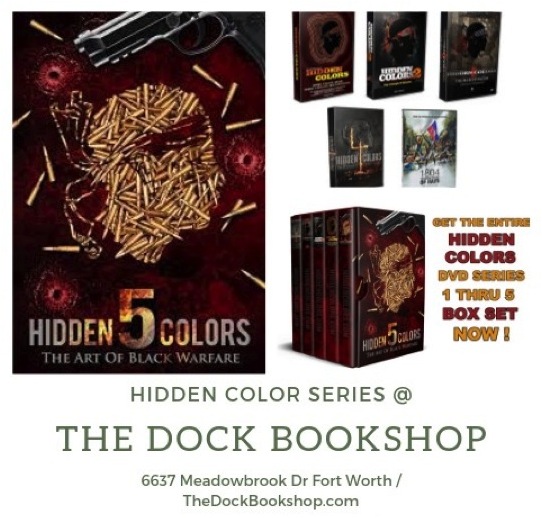 HIDDEN COLORS 5
Available at The Dock Bookshop!
Hidden Colors 5 is the final installment of the critically acclaimed Hidden Colors documentary series. In this installment, the film explores the history of warfare as it relates to global Black society. The film is broken down into 7 chapters that examines the ways the system of racism wages warfare from a historical, psychological, sexual, biological, health, educational, and military perspective.
---
---
EVENTS
Special Guest/Author/Book Events
A TIME TO HEAL SYMPOSIUM WITH MATHEW KNOWLES - FREE EVENT!
and
November 9 - Texas Wesleyan University
Nick & Lou Martin University Center
MORE EVENTS