Almost Paradise (Paperback)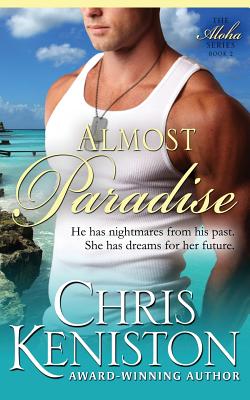 Description
---
Almost Paradise
Book Two of the Aloha series
Owner of the Big Island Dive shop, former Navy Explosive Ordinance Disposal tech Billy Everrett is going through the motions of living. Love, marriage and children are not in his plans when a damsel in distress falls into his arms.
Angela Carson's life is not unfolding according to plan. She's twelve years behind the curve in her search for love, marriage and babies. With her biological clock raising its ugly head, she never expects to meet Mr. Right in time.
Is a damsel in distress enough to show the best things in life don't need a plan?
More in the Series:
Almost Paradise: Book 2: Billy and Angela's story
Mai Tai Marriage: Book 3: Jim and Lexie's story
Dive into You: Book 4: Doug and Emily's story
Look of Love: Book 5: Dan and Maddie's story
Love By Design: Book 6: John and Ava's story
Love Walks In: Book 7: Mike and Annette's story
Shell Game: Brooklyn's story
More Series by Chris Keniston
Farraday Country (7 books)
Honeymoon series (2 books)
Family Secrets novels (3 books)