The Look of Love (Paperback)

List Price: $7.99
Our Price: $5.43
(Save: $2.56 32%)
Usually Ships in 1-5 Days
Description
---
Look of Love
(Aloha Series Book 5)
Sometimes one look is all it takes. Thrilled to be visiting her brother in Kona for the birth of his next child, Madeleine Harper and her parents are all set for a quiet family reunion in paradise. That is if Maddie weren't distracted by the naval officer she keeps-literally-bumping into.
Retired Captain Daniel O'Neil is looking forward to two weeks in the sunny Hawaiian Islands to connect with the daughter he barely knows. Except his plans didn't include a beautiful stranger he can't forget.
More about Look of Love from the author: I was very excited to bring Nick's sister Maddie and their parents to the island for the birth of Nick and Kara's son. But I absolutely fell in love with Dan O'Neil. I do so love an officer and a gentleman. It was also a special treat for me to revisit Pearl Harbor and the Arizona memorial. I will note, though it did not happen to me, the story of the foreign tourists was true.
I always love playing with the friends and family at the Big Island dive shop and I hope you'll have fun with this little story too Enjoy
Upcoming Events
---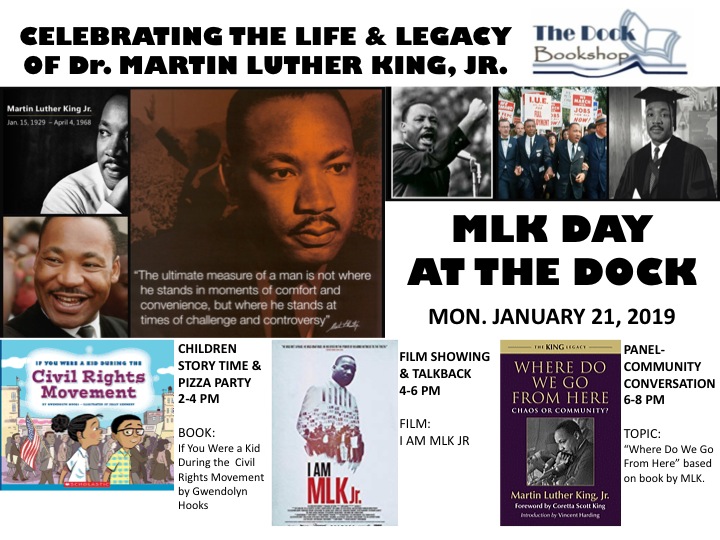 CELEBRATING THE LIFE & LEGACY OF Dr. MARTIN LUTHER KING, JR.
MLK DAY AT THE DOCK
MON. JANUARY 21, 2019
CHILDREN STORY TIME & PIZZA PARTY
2-4 PM
BOOK READ: If You Were a Kid During the Civil Rights Movement
"I Am MLK Jr." tells the story and celebrates the life of Dr. Martin Luther King Jr. from an engaging contemporary perspective structured around seminal events of the Civil Rights Movement.
PANEL- COMMUNITY CONVERSATION
6-8 PM
TOPIC: Where Do We Go From Here
Join other concerned citizens in addressing issues facing the African American Community and determining.....Where do we go from here in 2019
---
U LIT TEEN OPEN MIC
Saturday Jan 19 - 3 PM at The Dock
Teen Open Mic !!
Come support the youth! To RSVP or For more info call 469.528.0224
RSVP
---
Concerned Citizens Local Organizing Committee
Presents NEW YEAR UNITY BUSINESS MIXER
THU. JAN. 17th 7-9 PM @ THE DOCK
Black businesses and professionals are invited to come and share! Bring business cards/flyers
The Community is invited to come, learn and support.Free Event. Presented by the Concerned Citizens Local Organizing Committee.
---
GET THAT BOOK PUBLISHED LUNCH AND LEARN
Saturday January 26 ~ 12 noon - 2 PM @ The Dock
Whether it's a fictional novel, a guide book, or a manuscript - get that book published! Come learn and let us help you accomplished one of your goals for 2019!
---
MEN'S BOOK CLUB
THU. JAN 24 - 7 PM @ THE DOCK
Book Discussion:What it Means When a Man Falls From The Sky
by Lesley Nneka Arimah
RSVP
---
BOOK & AUTHOR SPOTLIGHT
ABOUT BOOK: There wasn't a sweet sixteen for Crystal like most girls her age. It was bitter-sweet as she waddled around alone, pregnant, and confused. Fast-forward twenty years and Crystal is still trying to right a wrong that she shouldn't have had to fix.Determined to emend her past misfortunes, Crystal runs to the church. But instead of making God her savior, she seeks her salvation from Marcus Powers, co-pastor of Freewill Baptist Church. Marcus is the love of her life and the very vehicle that will drive her to becoming a First Lady. A title she has wanted to own for most of her life. What Crystal fails to understand is that it will take more than being married to Marcus to make her a First Lady. If Crystal doesn't learn to un-blur the lines of her faith and flesh, she'll lose way more than just her self-worth.
ABOUT AUTHOR: Gabrielle Beasley is a Screenwriter and Playwright. She received a Bachelor's Degree in Radio, Television and Film Broadcasting from the University of North Texas. She's worked as an Associate Producer and currently is the CEO of the faith-based production company, Potluck Film Productions, in Dallas, TX. Gabrielle also volunteers in the Drama Ministry at the Potter's House church in Dallas, TX as a writer and stage manager. In 2014, she produced the stage play First Lady or Not and is currently turning this stage production into a film.