Shaka Rising: A Legend of the Warrior Prince (African Graphic Novel) (Paperback)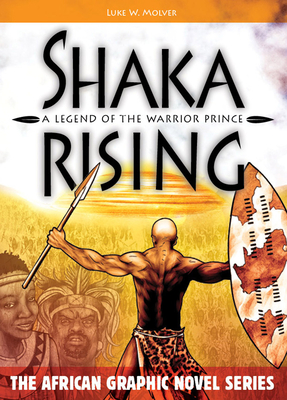 Description
---
A 2019 Children's Africana Book Awards Honor Book for Older Readers
Shortlisted for the Nommo Awards for African Speculative Fiction--Graphic Novel
A time of bloody conflict and great turmoil. The slave trade expands from the east African coast. Europeans spread inland from the south. And one young boy is destined to change the future of southern Africa. This retelling of the Shaka legend explores the rise to power of a shrewd young prince who must consolidate a new kingdom through warfare, mediation, and political alliances to defend his people against the expanding slave trade.
"A worthy introduction that offers a young Anglophone audience entry into a legend of Africa without the annoyance of overtranslation and with refreshingly three-dimensional characters." --Kirkus
"Deftly written and superbly illustrated by Luke Molver, "Shaka Rising: A Legend of the Warrior Prince" is a truly extraordinary and entertaining graphic novel that will decidedly prove to be an enduringly popular addition to community library graphic novel collections for readers ages 16 to 86." Midwest Book Review
Luke Molver is a graphic novelist whose world is fueled by the art of storytelling. He lives in Cape Town, where reality continues to interfere with his daily life.
About the Author
---
Luke Molver, author and illustrator: Luke Molver has always known that his life would be fuelled by storytelling. He studied Fine Art and Graphic Design at the Durban University of Technology and works as a freelance illustrator and comic book creator in Cape Town, South Africa. He has produced a number of comic books and his work has been published in a variety of graphic anthologies including the Laugh It Off annual, Velocity, Mamba Comix and GrafLit: Graveyard Literature.