Donate to Literacy
TEXAS LITERACY CONNECTION
THE MISSION of Texas Literacy Connection (TLC) (also known as Literary Arts Connection), a non-profit 501(c)(3) corporation, is to promote literacy and literary arts that will inspire individual and community action to build relationships, improve lives and better society.
TLC is dedicated to promoting literacy in its totality based on the National Literacy Act of 1991 definition of literacy: "an individual's ability to read, write, speak, compute and solve problems to function on a job and in sociery to achieve one's goals and develop one's knowledge and potential."
TEXAS LITERACY CONNECTION PROGRAMS (in collaboration with The Dock Bookshop)
Children's Story Time/FunTime
Youth Reading Clubs/Kickbacks
Summer Community Reading Initiative
Tutoring
GED Classes & Adult Literacy
Multilingual Education
Writing and Communication Workshops & Panels
International Book Project
Book Vouchers
TEXAS LITERACY CONNECTION EVENTS
Black History Lecture Series
Writers & Readers Conference
DFW Literary SoulFEST
Winter Wonderland of Reading
Leaders for Literacy Annual Benefit
Begin Your Search For BOOKS Here!
We're Celebrating 10 Years of Business and Service
Join us in the Celebration!
Make The Dock Bookshop one of your shopping destinations!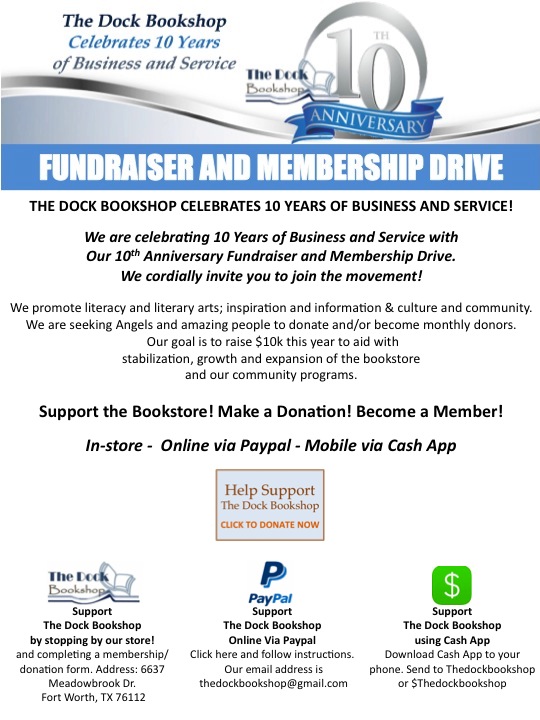 Bi-Monthly Newsletter & Shopping Guide
Black Panther Comic Booklist
Upcoming Guests & Events
---
FEATURED AUTHOR & BOOK
Introducing New Author Kim Gbadebo
and her new book release THE ULTIMATE BETRAYAL
Available at The Dock Bookshop
---
UPCOMING GUESTS AND EVENTS
CELEBRATE Juneteenth & Black Music Month
Tue. June 1 The Dock Bookshop
6:30-8 PM
Free Family Event with Speakers

8-10 PM
Poetry & Open Mic Night
$5 Cover
Building Our Communities Again:
A Real Estate Investment Event!
Sunday, June 24th
3-5pm - The Dock Bookshop
Discussion on gentrification and (re)building our own communities. Plus, there will be a master plan presented by Real Estate Developer Kevin Brown & Jeanette Sneed. Snacks & refreshments will be served. For more information call 469 652 4009
---