Donate to Literacy
TEXAS LITERACY CONNECTION
THE MISSION of Texas Literacy Connection (TLC) (also known as Literary Arts Connection), a non-profit 501(c)(3) corporation, is to promote literacy and literary arts that will inspire individual and community action to build relationships, improve lives and better society.
TLC is dedicated to promoting literacy in its totality based on the National Literacy Act of 1991 definition of literacy: "an individual's ability to read, write, speak, compute and solve problems to function on a job and in sociery to achieve one's goals and develop one's knowledge and potential."
TEXAS LITERACY CONNECTION PROGRAMS (in collaboration with The Dock Bookshop)
Children's Story Time/FunTime
Youth Reading Clubs/Kickbacks
Summer Community Reading Initiative
Tutoring
GED Classes & Adult Literacy
Multilingual Education
Writing and Communication Workshops & Panels
International Book Project
Book Vouchers
TEXAS LITERACY CONNECTION EVENTS
Black History Lecture Series
Writers & Readers Conference
DFW Literary SoulFEST
Winter Wonderland of Reading
Leaders for Literacy Annual Benefit
PRODUCT FEATURES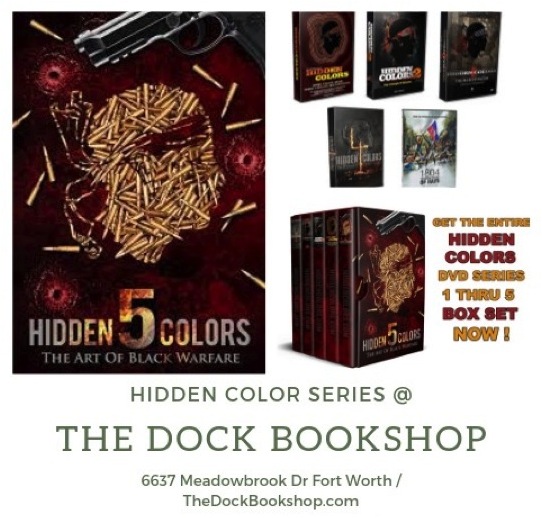 HIDDEN COLORS 5
Available at The Dock Bookshop!
Hidden Colors 5 is the final installment of the critically acclaimed Hidden Colors documentary series. In this installment, the film explores the history of warfare as it relates to global Black society. The film is broken down into 7 chapters that examines the ways the system of racism wages warfare from a historical, psychological, sexual, biological, health, educational, and military perspective.
---
---
EVENTS
Special Guest/Author/Book Events
A TIME TO HEAL SYMPOSIUM WITH MATHEW KNOWLES - FREE EVENT!
and
November 9 - Texas Wesleyan University
Nick & Lou Martin University Center
MORE EVENTS