The Business of Lovers (Kobo eBook)
$13.99
Description
---
All is fair in love and lust in New York Times bestselling author Eric Jerome Dickey's tale of two brothers, four women, and the business of desire.
Unlike their younger brother, André, whose star as a comedian is rising, neither Dwayne nor Brick Duquesne is having luck with his career—and they're unluckier still in love. Former child star Dwayne has just been fired from his latest acting role and barely has enough money to get by after paying child support to his spiteful former lover, while Brick struggles to return to his uninspiring white-collar job after suffering the dual blows of a health emergency and a nasty breakup with the woman he still loves.
Neither brother is looking to get entangled with a woman anytime soon, but love—and lust—has a way of twisting the best-laid plans. When Dwayne tries to reconnect with his teenage son, he finds himself fighting to separate his animosity from his attraction for his son's mother, Frenchie. And Brick's latest source of income—chauffeur and bodyguard to three smart, independent women temporarily working as escorts in order to get back on their feet—opens a world of possibility in both love and money. Penny, Christiana, and Mocha Latte know plenty of female johns who would pay top dollar for a few hours with a man like Brick... if he can let go of his past, embrace his unconventional new family, and allow strangers to become lovers.
Eric Jerome Dickey paints a powerful portrait of the family we have, the families we create, and every sexy moment in between.
The Dock Bookshop COVID-19 Response
In response to the COVID-19 crisis and compliance to mandates by local, state and federal authorities,The Dock Bookshop storefront is closed. Health and safety of our staff team and customers are priority.

Although we are not allowing customers in the store during this health crisis, The Dock Bookshop will provide delivery by mail or curbside/pick up at the door for orders.

Curbside/Pick Up At Door:

Tue-Thu 1-6p and Fri-Sat 11a-6p

Customers can place their orders for personal care, home care, and educational and entertaining books (aka mind food) while staying home and being safe.

Ways to order

*we are working to add more items to website. Currently book orders can be place online.
Personal care - soaps, shea butter, toothpaste, deodorant, medicinal oils, hair care, herbal teas, etc
(please call/text/email to place orders until our website is updated)

Home care - sage, incense, fragrance oils, etc

(please call/text/email to place orders until our website is updated)

Books (aka Mind Food) - Educational and entertaining books. Children Books, History &Culture, Self-Help, Fiction and more


We are all in this together and together we will prevail!
Stay Safe! Stay Strong! Stay Connected:
Follow thedockbookshop on social media platforms-Facebook, Instagram and Twitter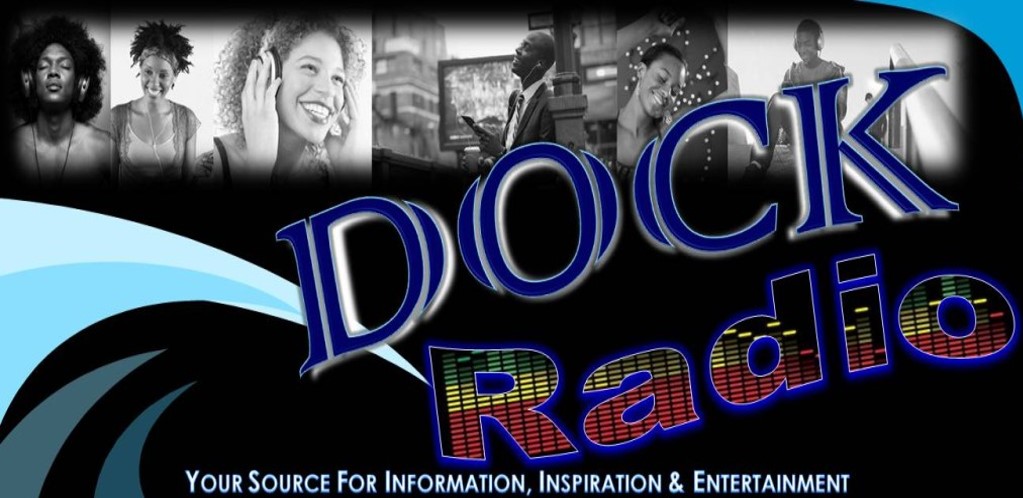 Dock Radio has a line-up of great shows and hosts highlighting various aspects of life and living!!! Also there will be guest authors discussing their books and businesses discussing their products and services on
We look forward to your interactions with the independent shows and guests.

For more information call 817-457-5700 or email: info@thedockbookshop.com

Ways to Tune-in
Download App "Dock Radio"

Website:
Weekly Schedule
Daily
6 AM Health Watch
11:30 AM Blue Ocean Strategy
12 Noon Health Watch
Monday
7 PM Tammy and Donya Show
8:15 PM Voices From the Past
Tuesday
7 PM Darolyn Brock Show
9:30 PM True-story Dramatization
Thursday
7 PM OnShore Radio
Saturday
10 AM OnShore Radio
Sunday

2 PM Soulfood Sundays

JOIN US TONIGHT!
Thursday, April 2 at 7:00 PM
OnShore hosted by Donya
Interview with Ivan Dockins
Author of Eleanor's Wicked Epiphany
OnShore Weekly

Thursday @7pm

Saturday @ 10am

AUDIO Listeners - "Dock Radio" - Download App: Iphone/Android/Ipad

or Website: www.dockradiolive.com

FACEBOOK: The Dock Bookshop & Dock Community

LIVE STREAM: www.docklive.tv


Call-In#: 972-427-7795

****

April 2nd @7pm - Author Ivan Dockins

April 4th @10am - Author Niyah Moore

April 11th @10am - Author Untamed
Weekly Schedule
OnShore Weekly

Thursday @7pm

Saturday @ 10am

****

April 2nd @7pm - Author Ivan Dockins

April 4th @10am - Author Niyah Moore

April 11th @10am - Author Untamed
DOCK OPEN MIC
Every Tuesday
8-10 PM
via ZOOM starting
Tuesday April 7

Stay Tuned for details!
Come share your talent and/or enjoy an evening of music, food, drinks and artistic expressions poetry, live performances, comedy and more -with good people and good energy!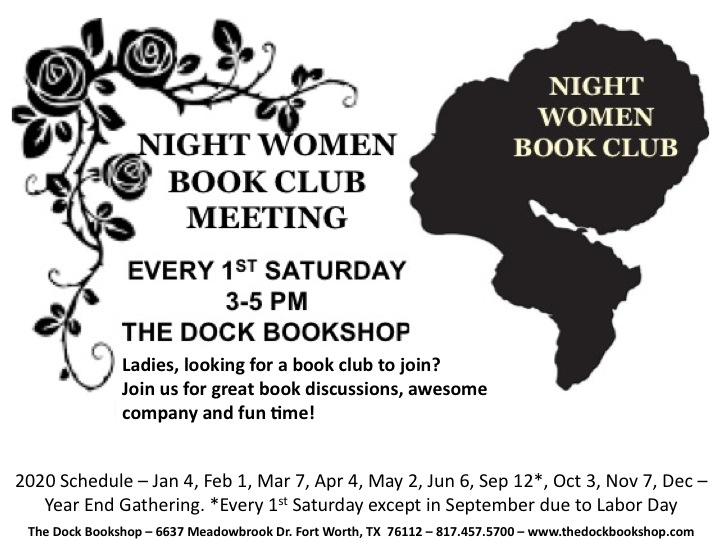 NIGHT WOMEN BOOK CLUB
1ST SATURDAY
3-5 PM via Zoom
Ladies, looking for a book club to join?
Join us for great book discussions, awesome company and fun time!
Book Discussion:
April 4 - Charcoal Joe
KIDS CLUB
April 25
2:30-3:30 PM
via Zoom

STAY TUNED FOR DETAILS
The Dock Bookshop Kids Club takes place every month and is sure to edutain both children and parents in an interactive setting. We have a variety of themed
programs that includes books, reading, play and more!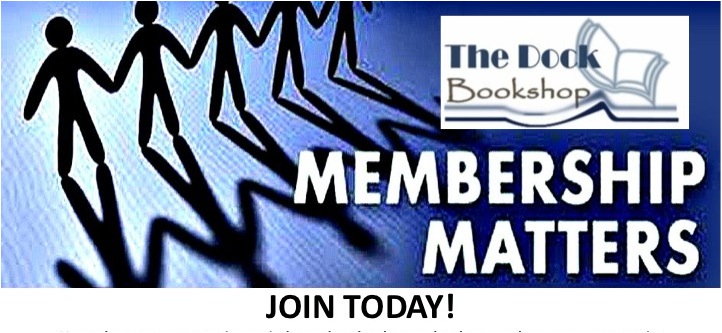 Not only are you supporting an independent bookstore that loves and supports community
but also your supporting...
*Literary and cultural programs including our Kids Club that impacts hundreds of families
*Artists who share their artistic expressions every Tuesday
Plus
*Receive additional discounts and savings on books
*Receive free tickets to Dock selected events
*Usage of meeting space (based on availability)
*Free advertising on Dock Eblast & social media outlets and more