Black August
Submitted by thedockbookshop on Fri, 08/23/2013 - 4:53am
RESISTANCE: THE ORIGIN OF BLACK AUGUST

Black August originated in the California penal system to honor fallen Freedom Fighters, Jonathan Jackson, George Jackson, William Christmas, James McClain and Khatari Gaulden. Jonathan Jackson was gunned down outside the Marin County California courthouse on August 7, 1970 as he attempted to liberate three imprisoned Black Liberation Fighters: James McClain, William Christmas and Ruchell Magee. Ruchell Magee is the sole survivor of that armed liberation attempt. He is the former co-defendant of Angela Davis and has been locked down for 38 years, most of it in solitary confinement. George Jackson was assassinated by prison guards during a Black prison rebellion at San Quentin on August 21, 1971. Three prison guards were also killed during that rebellion and prison officials charged six Black and Latino prisoners with the death of those guards. These six brothers became known as the San Quentin Six.

Khatari Gaulden was a prominent leader of the Black Guerilla Family (BGF) after Comrade George was assassinated at San Quentin Prison in 1978 to eliminate his leadership and destroy the resistance movement.

Black August is a time to embrace the principles of unity, self-sacrifice, political education, physical training and resistance.

In the late 1970's the observance and practice of Black August left the prisons of California and began being practiced by Black/New Afrikan revolutionaries throughout the country.

Traditionally, Black August is a time to study history, particularly our history in the North American Empire. The first Afrikans were brought to Jamestown as slaves in August of 1619, so August is a month during which Blacks/New Afrikans can reflect on our current situation and our self-determining rights. Many have done that in their respective time periods. In 1843, Henry Highland Garnett called a general slave strike on August 22. The Underground Railroad was started on August 2, 1850. The March on Washington occurred in August of 1963, Gabriel Prosser's 1800 slave rebellion occurred on August 30 and Nat Turner planned and executed a slave rebellion that commenced on August 21, 1831. The Watts rebellions were in August of 1965. On August 18, 1971 the Provisional Government of the Republic of New Afrika (RNA) was raided by Mississippi police and FBI agents. The MOVE family was bombed by Philadelphia police on August 8, 1978. Further, August is a time of birth. Dr. Mutulu Shakur (political prisoner & prisoner of war), Pan-Africanist Black Nationalist Leader Marcus Garvey, Maroon Russell Shoatz (political prisoner) and Chicago BPP Chairman Fred Hampton were born in August. August is also a time of rebirth, W.E.B. Dubois died in Ghana on August 27, 1963.


The tradition of fasting during Black August teaches self-discipline. On August 31, a People's feast is held and the fast is broken.
For more info visit http://www.assatashakur.org/forum/liberation-strategy/5397-what-black-au...
Book List for Black August
1. Moses: When Harriet Tubman Led Her People to Freedom by Carole Boston Weatherford and Kadir Nelson
2. The Confessions of Nat Turner by Nat Turner
3. Selected Writings and Speeches of Marcus Garvey by Marcus Garvey
4. The Souls of Black Folk by W. E. B. DuBois
5. The Black Power: The Politics of Liberation by Kwame Ture and C V Hamilton
6. Ready for Revolution by Stokely Carmichael 
7. Soledad Brother: The Prison Letters of George Jackson by George Jackson
8. Blood in My Eye by George Jackson
9. Angela Davis: Autobiography by Angela Y Davis
10. Assata: An Autobiography by Assata Shakur
11. To Die for the People by Huey P Newton
12. Seize the Time: The Story of the Black Panther Party by Bobby Seale
13. We Want Freedom: A Life in the Black Panther Party by Mumia Abu-Jamal 
14. The Assassination of Fred Hampton by Jeffrey Haas
15.  Cointelpro: The FBI's Secret War on Political Freedom
MORE READS
The Philosophy and Opinions of Marcus Garvey by Marcus Garvey and Amy Jacques Garvey
Message to the People by Marcus Garvey 
Are Prisons Obsolete by Angela Y Davis
Revolutionary Suicide by Huey P Newton
Live from Death Row by Mumia Abu-Jamal
The Classroom and the Cell by Mumia Abu-Jamal
Still Black, Still Strong by Dhoruba Bin Wahad
The New Jim Crow by Michelle Alexander
Racial Matters: The FBI's Secret File on Black America, 1960-1972
Agents of Repression: The FBI's Secret Wars Against the Black Panther Party and the American Indian …
Event date:
Thursday, August 1, 2013 - 2:53am to Saturday, August 31, 2013 - 2:53am
PRODUCT FEATURES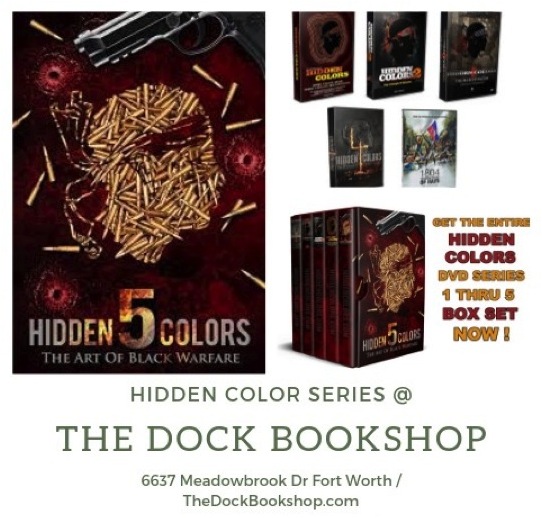 HIDDEN COLORS 5
Available at The Dock Bookshop!
Hidden Colors 5 is the final installment of the critically acclaimed Hidden Colors documentary series. In this installment, the film explores the history of warfare as it relates to global Black society. The film is broken down into 7 chapters that examines the ways the system of racism wages warfare from a historical, psychological, sexual, biological, health, educational, and military perspective.
---
---
EVENTS
The Dock Bookshop is Going to Frisco!
The Dock Bookshop
HOLIDAY EXPO
Sat. Dec. 14, 2019~12 Noon - 6 PM
Embassy Suites Frisco Convention Center
7600 John Q Hammons Dr. Frisco, TX 75034
Join us for this holiday and cultural experience!
Shopping - African Drumming - Book Discussions - Live Performances - Speakers - Book Signings
and more! Free Event
Interested in Vending Click here
or call/text 817.296.0288
---
We Are Thankful for You
MEMBER APPRECIATION
HOLIDAY RECEPTION
Tue. Dec. 17~6:30-8 PM @ The Dock
Dock Members or those interested in becoming Dock Members are cordially invited to attend our Member Appreciation Holiday Reception.
We will share our year in review and plans for 2020 over food and drinks
RSVP
or Become a Member Today!
---
DOCK TUESDAY OPEN MIC
Every Tuesday 8-10 PM @ The Dock
12-3 Sin's Birthday Bash
An evening of music, food, drinksand artistic expressions - poetry, live performances, comedy and more with good people and good energy. Come share your talent. $5 Cover
---
SMALL BUSINESS SATURDAY
Nov. 30
Shop local - Shop Indie - Shop The Dock!
Books, Incense, Oils, Health & Beauty, Jewelry, Albums, Journals, Calendars, Cards, Clothing, T-shirts, Bags and more!
---
READING WONDERLAND CHILDREN'S BOOK FAIR
Sat. Nov. 30~3-5 PM @ The Dock
Bring the family out to a reading wonderland of books, story time, guest authors, arts and crafts, refreshments and more.
RSVP
---
NWBC presents THE GATHERING OF READERS
Sat. Dec. 7~4-7 PM @ The Dock
THE GATHERING OF READERSis a celebration of Readers, Book Clubs and Authors - a social event with food, fun and entertainment
hosted by The NWBC.
Cost $10.00 per person. RSVP by December 5.
This event is for adults both men and women
RSVP
---
Stimulations to Success Ministries presents
THE RIGHT HAND OF GOD
Sun. Dec. 29 ~ 5-7 PM @ The Dock
We need guidance from God as we close out this year and make plans or 2020.
For more info call Minister Vanessa Brown 682-203-5646
---
KWANZAA AT THE DOCK
Thu. Dec. 26 - Tue. Dec. 31
Afternoon 2-4 PM and Evening 6-8 PM*
RSVP
Events are free and family oriented unless noted. Activities include libations, discussion of principles, lighting of candles, refreshments; and combination of story time, icebreaker, arts and crafts, film and presentation
(*Sat. Dec. 28 - Community Celebration 3-8 PM at The Dock; Sun. Dec. 29 evening is offsite; Tue. Dec. 31 evening is New Year's Eve Open Mic 8-10 PM $5 cover per person)
---
The Dock Bookshop
COMMUNITY KWANZAA CELEBRATION
Sat. Dec. 28
A free family cultural event
1 PM - Film: The Black Candle
3-7 PM - Libations, discussion of principles, lighting of candles, story time, icebreaker, arts and crafts, speakers, live performances, guest authors, book signings, refreshments and more!
RSVP
---
Dock in Community
Community Partners presents
KWANZAA FORT WORTH
Sat. Dec. 7~12 Noon-4 PM at
Austin Event Center 1125 E Berry St. FW
A CELEBRATION OF FAMILY, COMMUNITY AND CULTURE
FREE FAMILY EVENT
COME AND ENJOY Candle lighting ceremony, drumming, dancing, poetry, music, zumba and more. Plus shop our UjamaaMarketplace and learn from our panel of leaders as they expound upon the