Submitted by
thedockbookshop
on Sun, 07/09/2023 - 9:55am
Event date:
Saturday, September 16, 2023 - 8:00am
Event address:
Trinity Park
2300 W 7th Street
The Dock Bookshop is founder and managing partner of the Trinity River Book Festival at Trinity Park in Fort Worth, Texas just minutes from Shaq's Bass All Stars Fest at Panther Pavilion. This will be an exciting weekend for Fort Worth.
Trinity River Book Festival is a multicultural event during National Literacy Month which will take place Saturday, September 16th from 8am-2pm. Trinity Park Pavilion #1 will be transformed into a book lover's paradise, with books of all genres and for all ages. Run-to-Read, a 5k/1k, run/walk will kickoff the Trinity River Book Festival. Kickoff events also include Lit Crawl Fort Worth, a project of the TRBF through the Litquake Foundation.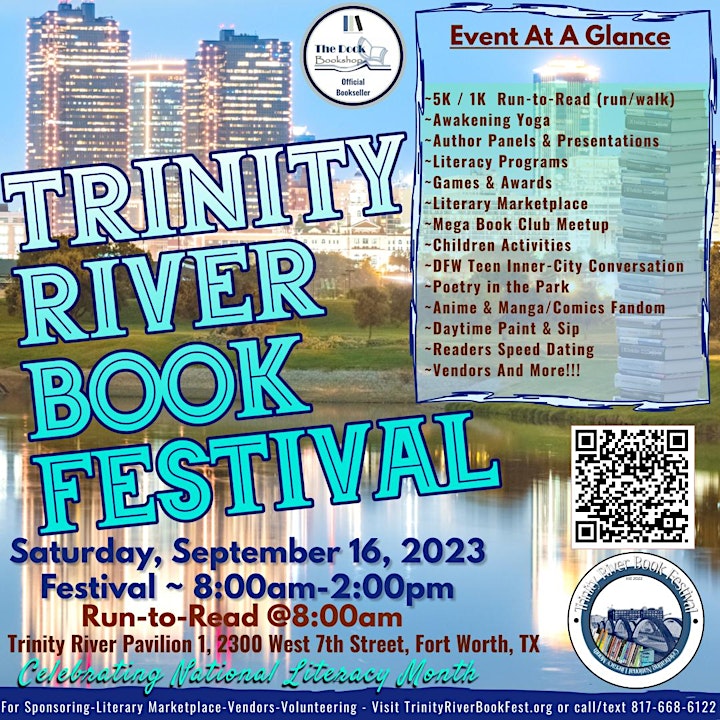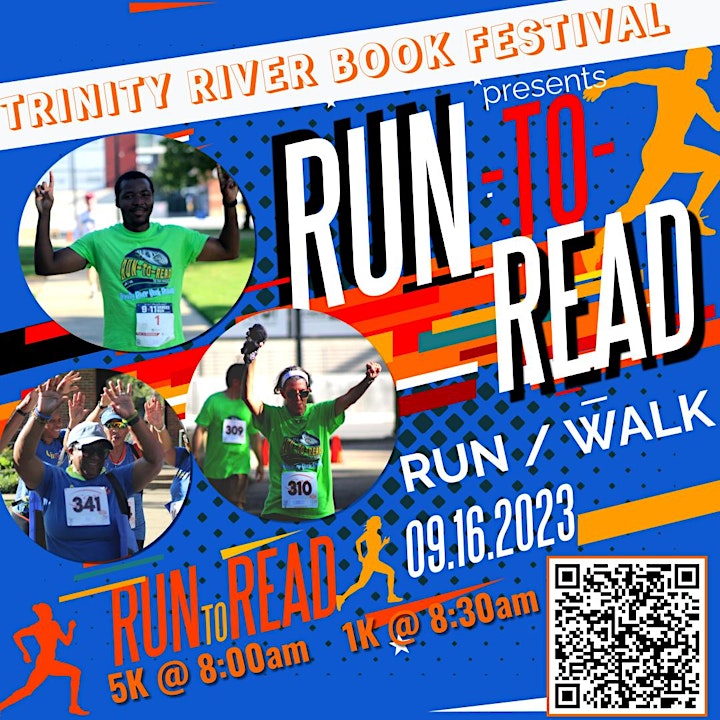 Countdown to the Trinity River Book Festival (TRBF)! Get Ready! TRBF is an annual event that celebrates literacy, books, reading and community. This year the Trinity River Book Festival will take place on Saturday, September 16 from 8:00 am-2:00 pm at Trinity River Park across from Chuy's Restaurant (2401 West 7th Street, Fort Worth, TX 76107). TRBF is held in September in honor of National Literacy Month. The event will kick off with Run-To-Read 5K/1K Run/ Walk at 8:00 am, followed by speakers, author presentations, live performances, reading circles, children's zone, food, vendors, and more. There will be over 30 authors covering a spectrum of genres including children, middle grade, young adults, graphic novels/anime/manga, romance, mystery, thrillers, sci-fi, western, cooking, self-help, faith and inspiration, poetry, memoirs, motivation, history and more.
Here's a list of 10 ways you and your family/organization can get informed, attend and/or participate!

Visit Website

for more info -

https://www.thedockbookshop.com/event/trinity-river-book-festival-2023 / https://trinityriverbookfest.org/

Plan to Attend

- Eventbrite/Trinity River Book Festival
https://www.eventbrite.com/e/trinity-river-book-festival-tickets-654966571647?aff=ebdshpsearchautocomplete
Register for the Run-To-Read 5K/1K Run/Walk

- Register You/Family/Group/ Team

https://raceroster.com/events/2023/76765/run-to-read/volunteer/register

Become a Sponsor/Partner

- For more info please send email to

info@trinityriverbookfest.org

Become a TRBF Author/Publisher -

https://trinityriverbookfest.org/product/author-publisher-in-the-literary-marketplace/

Become a TRBF Vendor

-

https://trinityriverbookfest.org/product-category/vendor-village/

Become a TRBF Vendor-Non Profit -

https://trinityriverbookfest.org/product/non-profit-informational/

Perform at TRBF

-

https://trinityriverbookfest.org/talent-artist/

Display Your Visual Artist Display

-

https://trinityriverbookfest.org/talent-artist/

Share! Share! Share!

#TrinityRiverBookFest #TRBF