Jacqueline Woodson Named National Ambassador for Young People's Literature
Submitted by thedockbookshop on Sun, 01/07/2018 - 5:45pm
Image:
http://www.bookweb.org/
On Thursday, January 4, the Children's Book Council, Every Child a Reader, and the Library of Congress announced that author Jacqueline Woodson will serve as the 2018–2019 National Ambassador for Young People's Literature.
Woodson, the author of more than two dozen books for young adults, middle graders, and children, is a National Book Award winner for her memoir-in-verse, Brown Girl Dreaming (Nancy Paulsen Books); a four-time Newbery Honor Medalist; a Coretta Scott King Book Award winner; and in 2015 was named the Young People's Poet Laureate by the Poetry Foundation.
"I think the work ahead of me is challenging," Woodson said. "I don't believe there are 'struggling' readers, 'advanced' readers, or 'non' readers. I'd love to walk away from my two years as ambassador with the qualifiers gone and young people able to see themselves beyond stigma or oft-times debilitating praise. Martin Luther King Jr. said people should not be judged by the color of their skin but by the content of their character. In that regard, I think young people should not be judged by the level of their reading but by the way a book makes them think and feel. By the way it gives them hope. By the way it opens them up to new perspectives and changes them. I'm excited to have these conversations with some of the best conversationalists in our country — our young people."
Established in 2008, the National Ambassador for Young People's Literature program highlights the importance of young people's literature as it relates to lifelong literacy, education, and the development and betterment of the lives of young people.
Over the course of her two-year term, Woodson will travel across the country to promote her platform, READING = HOPE x CHANGE (What's Your Equation?), which encourages young people to think about — and beyond — the moment they're living in, the power they possess, and the impact reading can have on showing them ways in which they can create the hope and the change they want to see in the world.
Previous National Ambassadors include authors Jon Scieszka (2008–2009), Katherine Paterson (2010–2011), Walter Dean Myers (2012–2013), Kate DiCamillo (2014–2015), and Gene Luen Yang (2016–2017).
An inauguration ceremony, which is free and open to the public, will take place on January 9 at the Library of Congress' Thomas Jefferson Building in Washington, D.C.
"We are delighted that Jacqueline Woodson has agreed to be the new National Ambassador for Young People's Literature," said Librarian of Congress Carla Hayden, who will preside over the ceremony. "I have admired Jacqueline Woodson's work for years, especially her dedication to children and young adult literature. The Library of Congress looks forward to Jacqueline's tenure of encouraging young readers to embrace reading as a means to improve the world."
Nancy Paulsen, president and publisher of Nancy Paulsen Books, said, "We think Jacqueline Woodson is the perfect ambassador for our time because of her commitment to making sure all children have access to all kinds of books, and are sure to see themselves portrayed in those books. This is exactly what's needed to appeal to today's readers and to grow the next generation of book lovers."
Carl Lennertz, executive director of Every Child a Reader and the Children's Book Council, added, "We couldn't be more pleased with the selection of Jacqueline Woodson as the next ambassador. She embodies everything that we look for in this position and we can't think of a more passionate advocate for young people and for reading over the next two years."
The National Ambassador is selected for their contributions to young people's literature, the ability to relate to kids and teens, and dedication to fostering children's literacy in all forms. The selection, made by the Librarian of Congress, is based on recommendations from an independent committee comprising educators, librarians, booksellers, and children's literature experts.
The 2018–2019 selection committee for the National Ambassador for Young People's Literature included:
DeAndra Beard, CEO and founder of Beyond Borders Language Learning Center and Beyond Barcodes Bookstore, Kokomo, Indiana
Sarah Park Dahlen, associate professor in the Master of Library and Information Science program at St. Catherine University, St. Paul, Minnesota
Earl Dizon, bookseller at Green Bean Books, a children's bookstore in Portland, Oregon
Travis Jonker, elementary school librarian in Dorr, Michigan, and School Library Journalblogger
Starr LaTronica, director of the Brooks Memorial Library in Brattleboro, Vermont
Ellen Ruffin, curator of the de Grummond Collection, University of Southern Mississippi, Hattiesburg, Mississippi
Gene Luen Yang, Printz Award-winning author, National Ambassador for Young People's Literature 2016–2017, and 2016 McArthur Fellow, Berkeley, California
Send by email
|
EVENTS
SHOP THE DOCK
Great Gift Ideas
Books, vinyls, calendars, journals, fragrances, jewelry, apparel, gifts and more
Dock Tuesday Poetry & Open Mic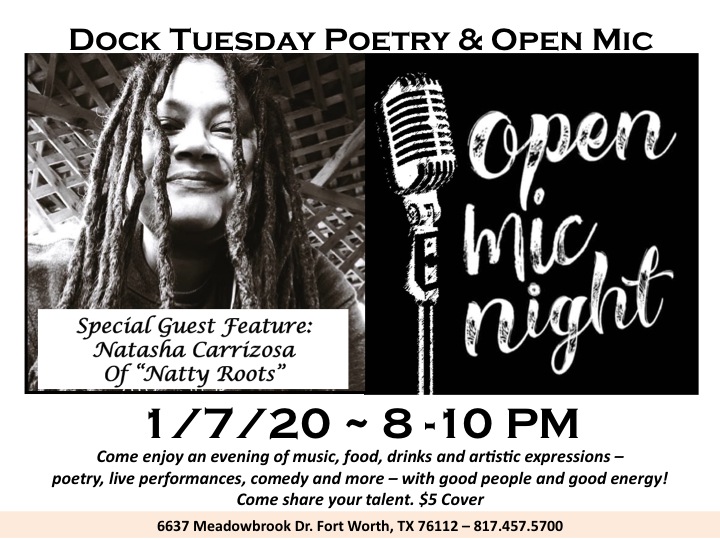 Come enjoy an evening of music, food, drinks and artistic expressions -
poetry, live performances, comedy and more -withgood people and good energy! Come share your talent. $5 Cover
Tue. Jan. 7 S
pecial Guest Feature:
Natasha Carrizosa Of "Natty Roots"
The Darolyn Brock Show
on Dock Radio

Tune in Tonight!
Every Tuesday at 7 PM
NEW YEAR - NEW YOU - NEW BOOKS
BOOK REVIEW & EMPOWERMENT TALKS
Sat. Jan 25th - 3-5 PM - The Dock Bookshop
A sharing and discussion of must-reads for 2020 that are sure to inspire, motivate and promote health and wealth with guest authors and more.
RSVP
Celebrating Life and Legacy of Martin Luther King Jr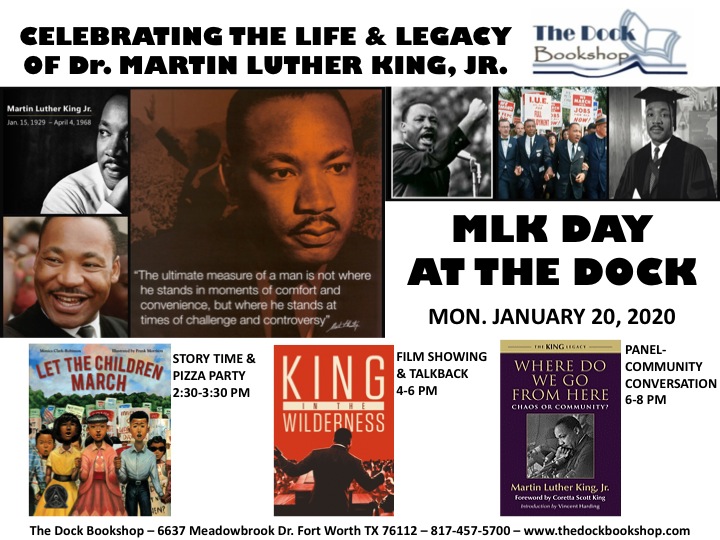 MLK DAY AT THE DOCK
Monday 1-20-2020
STORY TIME
2:30-3:30 PM
BOOK READ:
Let The Children March
by
Monica Clark-Robinson
Illustrated by Frank Morrison
About Book: Told from a child's point of view, this moving picture book focuses on a monumental moment in the civil rights movement: the Children's Crusade of 1963. Thousands of African-American children and teens marched through the streets of Birmingham, Alabama, to end segregation and to inspire change and hope for the future.
FILM SHOWING & TALKBACK
4-6 PM
FILM:
KING IN THE WILDERNESS
Through personal stories of the people who were around him, this film follows Martin Luther King, Jr. during the last years of his life.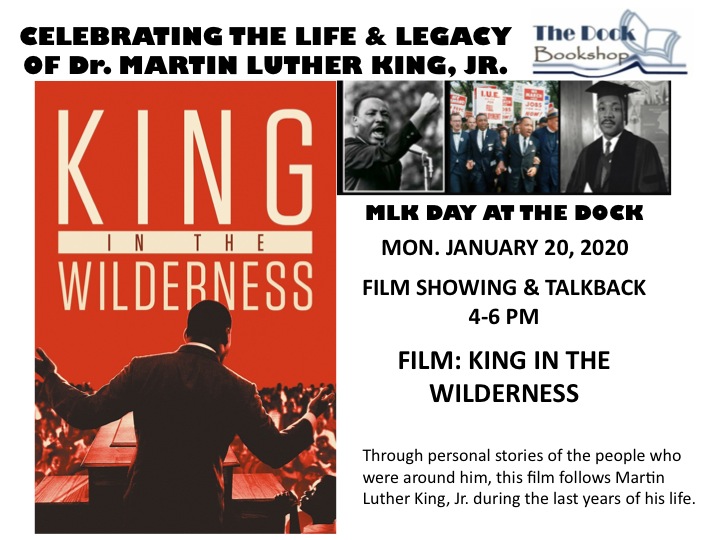 PANEL- COMMUNITY CONVERSATION
Join other concerned citizens in addressing issues facing the African American Community and determining.....Where do we go from here in 2020
MEN'S BOOK CLUB
4th Thursday
7-9 PM
The Dock Bookshop
All men are invited to read, share and build.

Book Discussion:
Jan. 23 - The Sellout
by Paul Beatty
RSVP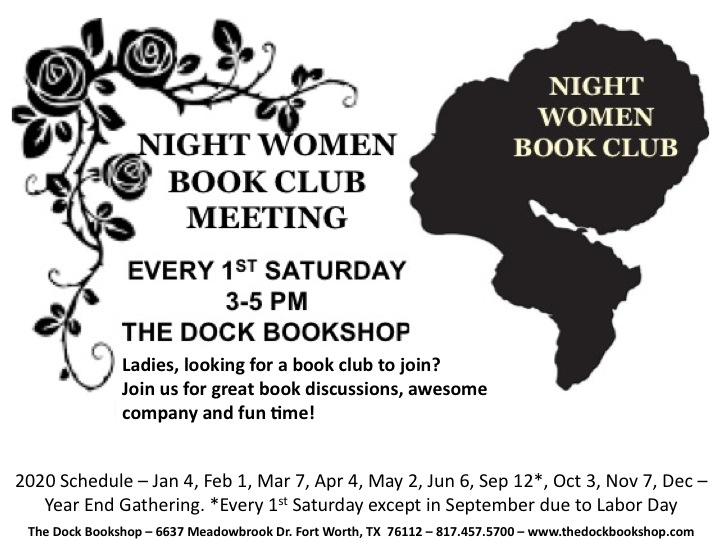 NIGHT WOMEN
BOOK CLUB
1ST SATURDAY
3-5 PM
The Dock Bookshop
Ladies, looking for a book club to join?
Join us for great book discussions, awesome company and fun time!
Book Discussion:
Feb. 4 - Rebel by
Beverly Jenkins
KIDS CLUB
Monthly 2:30-3:30 PM
The Dock Bookshop

The Dock Bookshop Kids Club takes place every month and is sure to edutain both children and parents in an interactive setting. We have a variety of themed
programs that includes books, reading, play and more!
Upcoming Date:
Mon. Jan. 20
Book Read:
Authors Schedule Your 2020 Book Signing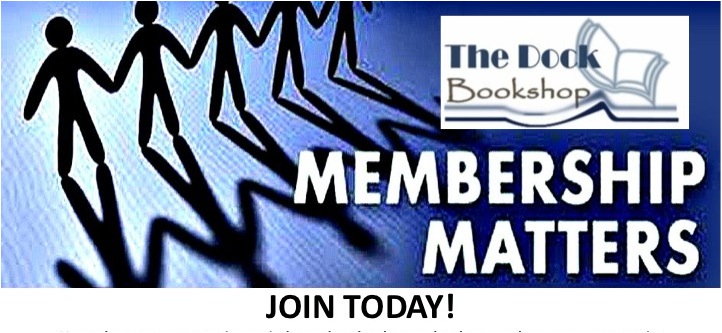 Not only are you supporting an independent bookstore that loves and supports community
but also your supporting...
*Literary and cultural programs including our Kids Club that impacts hundreds of families
*Artists who share their artistic expressions every Tuesday
Plus
*Receive additional discounts and savings on books
*Receive free tickets to Dock selected events
*Usage of meeting space (based on availability)
*Free advertising on Dock Eblast & social media outlets and more