Become a Member
Become a member...join the movement!
The Dock Bookshop is one of the largest independent, full service, African-American owned bookstores in the nation. Opened in 2008, The Dock has become a retailer, venue and a destination spot for African American literature and culture. Our mission is to inspire, inform and edu-tain readers and community thru books & other products, groups, and events. The Dock Bookshop is a force for good in the community, selling products and hosting events that inspire, inform and edu-tain. Hold your next meeting or event at the Dock!
BECOME A MEMBER and join the movement. We're not only a bookstore, but also a cause. Our aim is to increase literacy and awareness to better communities. We promote reading, books, literacy and literary arts; and culture, family and community in collaboration with our nonprofit affiliate Literary Arts Connection (a.k.a. Texas Literacy Connection). As a member, you help support our various weekly and monthly programs including Poetry Night, Family Night, Night Women Book Club, Sankofa Film, Books & Discussion, author events, classes, community forums and more!
10th Anniversary Fundraiser & Membership Drive - We are seeking Angels and amazing people to donate and/or become monthly donors. Our goal to raise $10k this year to aid with stabilization, growth and expansion of the bookstore and our community programs
See benefits below & JOIN TODAY!
In-store: 6637 Meadowbrook Dr. FW, TX
Mobile via Cash App: $Thedockbookshop
Membership Benefits

General Member

$25

Annually

Select Member

$10

Monthly

Business/Premier Member

$45

Monthly

SHOP

Shop & receive exclusive offers and special savings

x
x
x

E-Newsletter - on special offers & special savings

x
x
x

30% Off All Hardcover Books - In-store

x
x
INDIE COMMUNITY ADVOCATE

Support efforts to promote literacy & literary arts

x
x
x

Support efforts to promote culture & community

x
x
x

Support efforts to promote independent bookstores

x
x
x
EVENTS

Receive discounts on ticketed events

x

x

Priority signing at events

x

x

NETWORK / GROUPS / BUSINESS SERVICES

Business card/flyers in store

x

x

Priority seating at events

x

x

First To Know - networking, vendor, business opportunities

x

Included in Business Directory

x

Meeting space to hold business meetings & seminars

x

Vendor space and promotion of product/service/program at various events

x

Business Lite Website & Domain Registration

x
BIASHARA BOOK CLUB
x

Membership kit includes Think and Grow Rich: A Black Choice by Dennis Kimbro & The Richest Man In Babylon by George Samuel Clason
Quarterly Business Box
Bi-Monthly Web-base Discussions
Updates on National/Regional/Local Initiatives
Cross collaborations
Quarterly Breakfast

DOCK RADIO
x

One hour radio show or Radio Advertisement on Dock Radio
Programming Assistance

BECOME A MEMBER NOW>>>
SELECT MEMBER
BUSINESS MEMBER
Support The Dock Bookshop 10th Anniversary Fundraiser and Membership Drive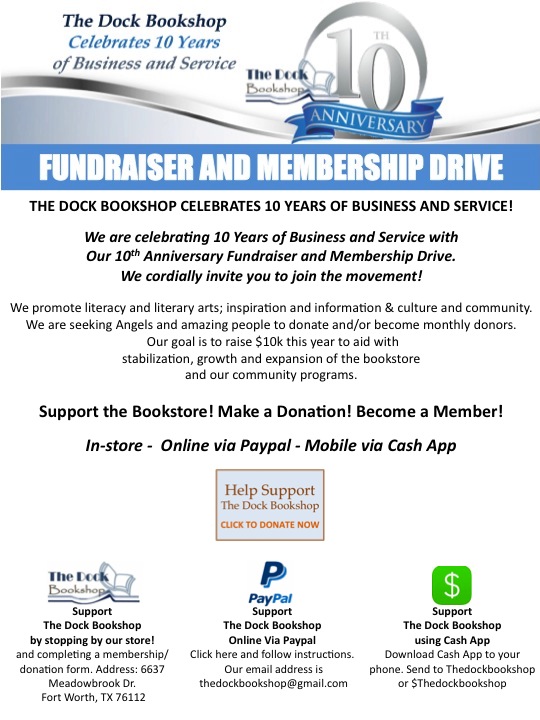 Fort Worth Book Fest & The Dock Bookshop
Presents THE HATE U GIVE
ADVANCE MOVIE SCREENING
Thursday, October 18, 2018 7:00pm
Ticket Cost Per Person $12
Movie Tavern West 7th Street
2872 Crockett St, Fort Worth, TX 76107
Family Event - Benefits Fort Worth Book Fest & Dock Bookshop Community Programs
********************
HATE U GIVE COMMUNITY DISCUSSION
SAT. OCT. 20 at 1:00 PM
FORT WORTH BOOK FEST - TCC/TRINITY RIVER CAMPUS
Level 4 in the Energy Auditorium.
Park in the Garage from the Cherry Street Portal and park on Level 4 or as directed
RSVP
---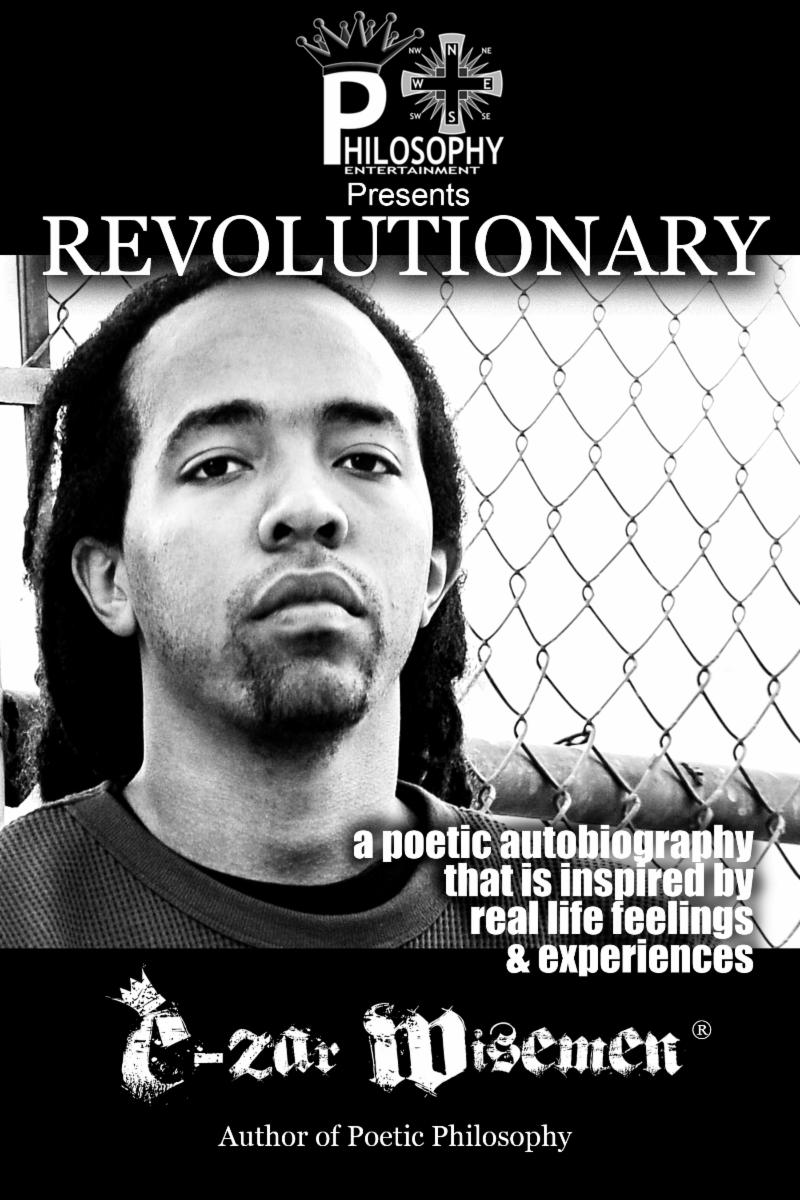 ABOUT THE BOOK
Revolutionary is the follow up to it's precursor Poetic Philosophy under C-zar Wisemen's former name Derek Perkins. This poetry book is a poetic autobiography that is inspired by real life feelings and experiences. This sequel gets deeper into the author's background that leads to who he is and his views on the world and issues affecting black people. In this work, C-zar addresses the entertainment industry, religion, self-reliance, crooked politics, romance, heartbreak, and more. This author is hopeful that his writings will spark the minds of millions of black people in the United States and around the world to fight against white supremacy and rise to greatness.

ABOUT THE AUTHOR
Rap artist C-zar Wisemen is from Charlottesville, Virginia, representing the indie rap/ hip-hop label Philosophy Entertainment. Albums released are "Tha New Testament" and "Real Niggaz" added with an Ep titled "Revolution" as well as a few singles from his music catalog. C-zar also wanted to showcase his poetic side by releasing two poetry books called "Poetic Philosophy" under the name Derek Perkins and "Revolutionary" under his current name C-zar Wisemen. Acting is also a passion of his, and he has acted in a few indie films. C-zar Wisemen's aim is to inspire the black community to change for the better through his works.
---
Black Panther Comic Booklist