Become a Member
BECOME A MEMBER!...JOIN THE MOVEMENT!
THE DOCK BOOKSHOP is one of the largest independent, full service, African-American owned bookstores in the nation. Opened in 2008, The Dock has become a retailer, venue and a destination spot for African American literature and culture. Our mission is to inspire and inform readers and community thru books & other products, groups, and events. The Dock Bookshop is a force for good in the community, selling products and hosting events that edu-tain and empower families and communities. Hold your next meeting or event at the Dock!!
BECOME A MEMBER and join the movement. We're not only a bookstore, but also a cause. Our aim is to increase literacy and awareness to better communities. We promote reading, books, literacy and literary arts; and culture, family and community. As a member, you help support our various weekly and monthly programs including Poetry Night, Family Night, Sankofa Film, Books & Discussion, women's book club, author events, classes, community forums and more!
MEMBERS also become community and indie advocates; receive special savings, discounts on ticketed events, priority seating and signings; plus, gain access to business and networking opportunities, usage of meeting space, very own radio show on Dock Radio and more! See benefits below & JOIN TODAY!
Ways to Give:
Stop by our store: 6637 Meadowbrook Dr. FW, TX
Mobile via Cash App: $Thedockbookshop
MEMBERSHIP BENEFITS

$10 Monthly $100 Yearly

$25 Monthly $250 Yearly

$45 Monthly $450 Yearly

SHOP

Shop & receive exclusive offers and special savings

x
x
x

E-Newsletter - on special offers & special savings

x
x
x

30% Off All Hardcover Books - In-store

x
x
x
INDIE COMMUNITY ADVOCATE

Support efforts to promote literacy & literary arts

x
x
x

Support efforts to promote culture & community

x
x
x

Support efforts to promote independent bookstores

x
x
x
EVENTS

Receive discounts on ticketed events

x

x

x

Priority signing at events

x
x

Priority seating at events

x

AUTHOR SERVICES
x
x
x
x
x
x

Book Signing Event Package

x
x
NETWORK / GROUPS / BUSINESS SERVICES

Business card/flyers in store

x

x

x

First To Know - networking, vendor, business opportunities

x

x

Included in Business Directory

x

x

Meeting space to hold business meetings & seminars

x

x

Vendor space and promotion of product/service/program at various events

x

Business Lite Website & Domain Registration

x
BIASHARA BOOK CLUB
x

Membership Includes:

Quarterly Business Box
Bi-Monthly Web-base Discussions
Updates on National/Regional/Local Initiatives
Cross collaborations
Quarterly Breakfast

DOCK RADIO
x

One hour radio show or Radio Advertisement on Dock Radio
Programming Assistance

BECOME A MEMBER NOW>>>
PREMIER MEMBER
BUSINESS MEMBER
BECOME A MEMBER
THE DOCK BOOKSHOP CELEBRATES
11 YEARS OF BUSINESS & SERVICE
SPECIAL THANKS TO YOU!
Our Supporters, Community Partners, Friends, Customers, Members and Family

The Dock Bookshop is all about books and reading, building community, celebrating culture and more! Help us celebrate our 11th Anniversary of Business and Service to the Community by becoming a Dock Member today starting as low as $10/mo
Click here to get started!
---
PRODUCT FEATURES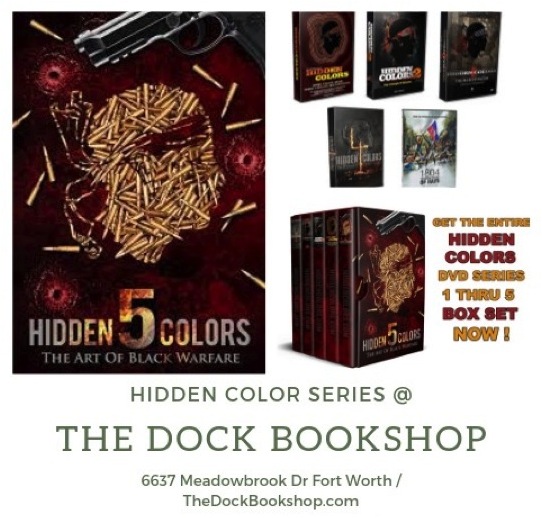 HIDDEN COLORS 5
Available at The Dock Bookshop!
Hidden Colors 5 is the final installment of the critically acclaimed Hidden Colors documentary series. In this installment, the film explores the history of warfare as it relates to global Black society. The film is broken down into 7 chapters that examines the ways the system of racism wages warfare from a historical, psychological, sexual, biological, health, educational, and military perspective.
---
EVENTS
LITERARY SOULFEST
Sat. September 21
1-5 PM @ The Dock
A Celebration of Books, Reading, Community and Culture During National Literacy Month!
Featuring guest authors and fall reads, live entertainment, speakers, panels, book signings
book club meet and greet and more!
Plus A Special Tribute to Literary Giant Toni Morrison
Authors are invited to come and share (Space Limited)
The community is invited to come, meet and greet the Authors
DOCK OPEN MIC
Every Tuesday ~ 8-10 PM ~ The Dock Bookshop
MYSS BOOK CLUB
Sat. 2019 ~ 1-3 PM ~
The Dock Bookshop
view flyer
My Sister's Sister Book Club is a summer reading group for young ladies who love to read.
The target age for this group are girls 9-14 years old. The meetings will include a lively discussion of the book, refreshments and making new friends. Join us! Tell a friend, bring a friend!
For more info call 817.457.5700