Become a Member
Become a member...join the movement!
The Dock Bookshop is one of the largest independent, full service, African-American owned bookstores in the nation. Opened in 2008, The Dock has become a retailer, venue and a destination spot for African American literature and culture. Our mission is to inspire, inform and edu-tain readers and community thru books & other products, groups, and events. The Dock Bookshop is a force for good in the community, selling products and hosting events that inspire, inform and edu-tain. Hold your next meeting or event at the Dock!
BECOME A MEMBER and join the movement. We're not only a bookstore, but also a cause. Our aim is to increase literacy and awareness to better communities. We promote reading, books, literacy and literary arts; and culture, family and community in collaboration with our nonprofit affiliate Literary Arts Connection (a.k.a. Texas Literacy Connection). As a member, you help support our various weekly and monthly programs including Poetry Night, Family Night, Night Women Book Club, Sankofa Film, Books & Discussion, author events, classes, community forums and more!
10th Anniversary Fundraiser & Membership Drive - We are seeking Angels and amazing people to donate and/or become monthly donors. Our goal to raise $10k this year to aid with stabilization, growth and expansion of the bookstore and our community programs
See benefits below & JOIN TODAY!
or
In-store: 6637 Meadowbrook Dr. FW, TX
Mobile via Cash App: $Thedockbookshop
Membership Benefits

General Member

$20

Yearly

Select Member

$10

monthly

Business/Premier Member

$25

monthly

E-Newsletter

x

x

x

SHOP
Shop & receive exclusive offers and special savings
x
x
x
EVENTS

Receive discounts on ticketed events

x

x

Priority signing at events

x

x

NETWORK / GROUPS / BUSINESS
Connect & build with others and various groups
x
x
x

Business card/flyers in store

x

x

x

Included in business listing

x

x

x

Updates on networking, vendor, business opportunities

x

x

Priority seating at events

x

Meeting space to hold business meetings & seminars

x

Included in business listing with image

x

Vendor space and promotion of product/service/program at various events

x

SUPPORT
Support efforts to promote literacy & literary arts
x
x
x
Support efforts to promote culture & community
x
x
x
Support efforts to promote independent bookstores
x
x
x
Begin Your Search For BOOKS Here!
We're Celebrating 10 Years of Business and Service
Join us in the Celebration!
Make The Dock Bookshop one of your shopping destinations!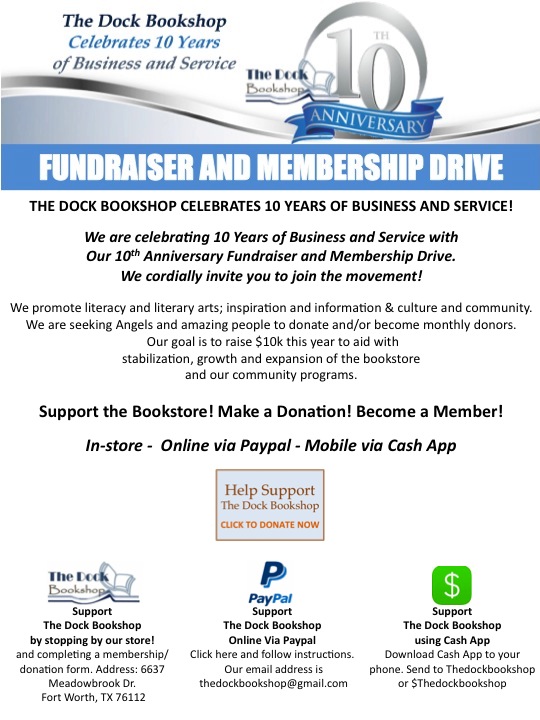 Bi-Monthly Newsletter & Shopping Guide
Black Panther Comic Booklist
Upcoming Guests & Events
---
FEATURED AUTHOR & BOOK
Introducing New Author Kim Gbadebo
and her new book release THE ULTIMATE BETRAYAL
Available at The Dock Bookshop
---
UPCOMING GUESTS AND EVENTS
CELEBRATE Juneteenth & Black Music Month
Tue. June 1 The Dock Bookshop
6:30-8 PM
Free Family Event with Speakers

8-10 PM
Poetry & Open Mic Night
$5 Cover
Building Our Communities Again:
A Real Estate Investment Event!
Sunday, June 24th
3-5pm - The Dock Bookshop
Discussion on gentrification and (re)building our own communities. Plus, there will be a master plan presented by Real Estate Developer Kevin Brown & Jeanette Sneed. Snacks & refreshments will be served. For more information call 469 652 4009
---