Your Source for Inspiration, Information & Edutainment!
We're about books and a whole lot more!...Inspiring Products, Genuine Service and Edutaining Events!
We sell new releases, best selling & popular fiction and non-fiction books for adults, children and youth. Our selections includes faith & inspiration, self help & relationships, health & wellness, money & business, politics & current events, biographies & memoirs, history & culture, cook books, Bibles, poetry, fiction, romance, Christian fiction, urban lit, erotica, international, mysteries & thrillers, sci-fi, fantasy & horror, adventure & classics.
We also sell T-shirts, women and men apparel, jewelry, accessories, health and beauty products, incense, oils, DVD's. albums, greeting cards, journals and more!
More than a bookstore, The Dock Bookshop is a force for good in the community, regularly hosting author talks, poetry & spoken word, children storytime, panel discussions, community meetings, film screenings & more. The Dock bookshop is 4000 square feet with a designated area to hold book signings and other events. Call to schedule your next meeting or event at the Dock!
Support The Dock Bookshop 10th Anniversary Fundraiser and Membership Drive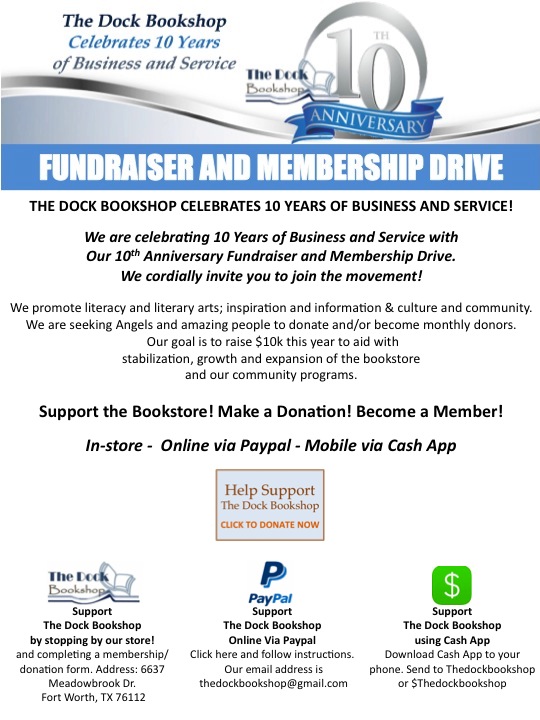 ---
BLACK FRIDAY
$5 FILL-UPS ON SELECTED BOOKS!
Friday, November 23, 2018
3-8 PM - The Dock Bookshop
---
SMALL BUSINESS SATURDAY
Saturday, November 24, 2018
11-8 PM - The Dock Bookshop
SHOP THE DOCK!
---
FAMILY TIME AT THE DOCK
FREE FAMILY FUN - Story Time & Pizza Party
Saturday November 24, 2018
3-4:30 PM - The Dock Bookshop
Bring the family out for FAMILY TIME AT THE DOCK
with author Linda Jones who will share from her book:
Family Scribes: Writing Memories For Your Family Tree
and engage participants in game activities that challenges the players to remember, share and preserve their personal stories for generations to come.
Family Scribes is a memory-stimulating book of writing and storytelling activities that are perfect for reunions and other gatherings of family and friends.
FREE FAMILY FUN
---
---
MEN'S BOOK CLUB
4th Thursday - 7-9 PM - The Dock Bookshop
Black Men coming together to read, bond, build.
RSVP
NOV. 29 BOOK DISCUSSION: New Visions For Black Men by Na'im Akbar
---
Night Women Book Club Presents THE GATHERING
of Readers, Book Clubs and Authors
Saturday, December 1, 2018
3-6 PM - The Dock Bookshop
THE GATHERING is a celebration of Book Clubs and Authors - a social event with food, fun and entertainment - hosted by The NWBC.
Attendees must enjoy reading and be willing to share their reading experiences.
Cost $5.00 per person. RSVP by November 26.
If you want to participate in our gift exchange, please bring a $10 gift item wrapped
This event is for adults both men and women. Significant others are welcomed.
---
---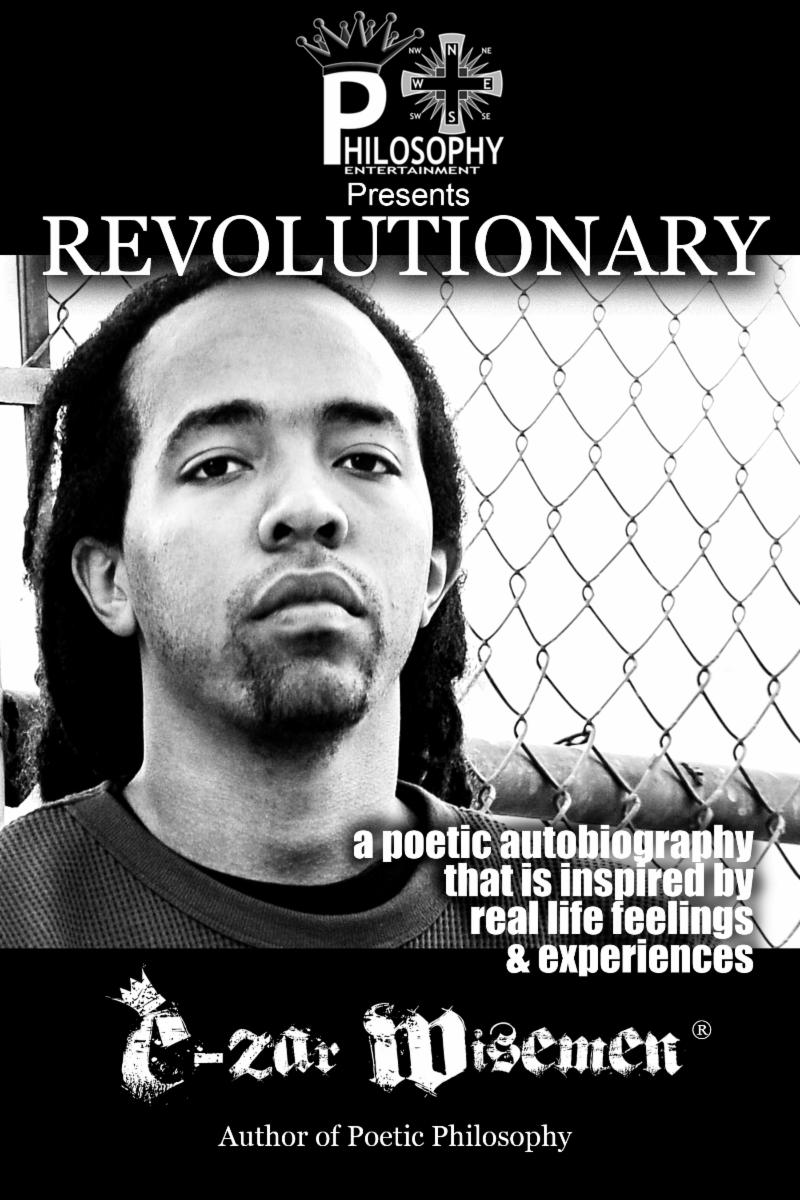 ABOUT THE BOOK
Revolutionary is the follow up to it's precursor Poetic Philosophy under C-zar Wisemen's former name Derek Perkins. This poetry book is a poetic autobiography that is inspired by real life feelings and experiences. This sequel gets deeper into the author's background that leads to who he is and his views on the world and issues affecting black people. In this work, C-zar addresses the entertainment industry, religion, self-reliance, crooked politics, romance, heartbreak, and more. This author is hopeful that his writings will spark the minds of millions of black people in the United States and around the world to fight against white supremacy and rise to greatness.

ABOUT THE AUTHOR
Rap artist C-zar Wisemen is from Charlottesville, Virginia, representing the indie rap/ hip-hop label Philosophy Entertainment. Albums released are "Tha New Testament" and "Real Niggaz" added with an Ep titled "Revolution" as well as a few singles from his music catalog. C-zar also wanted to showcase his poetic side by releasing two poetry books called "Poetic Philosophy" under the name Derek Perkins and "Revolutionary" under his current name C-zar Wisemen. Acting is also a passion of his, and he has acted in a few indie films. C-zar Wisemen's aim is to inspire the black community to change for the better through his works.
---
Black Panther Comic Booklist